As of April 2016, UK dog microchipping laws state that a keeper of a dog must keep their address details up to date, with a £500 potential fine if this is not kept up to date. Storing your address and contact details is a must for your pet to be reunited with you if it goes missing, and it's therefore vital that you register your microchip with a government-approved pet microchip database.
Most pet microchip databases will be driven by sales of microchips. As a result, you may have multiple pets in your household which were originally registered to different databases because of the brand of the microchip implanted in your dog or cat. This will mean that you may end up having to change the address and contact details for your pet on multiple databases and extra cost.
Each of the microchip pet databases charges different amounts and offer a range of services including missing pet services – however, it may not be clear to you but you do have the choice of deciding who your pet's microchip details are registered with, regardless of where the chip was originally bought from.
So you'll now be asking 'how do I move all my pets microchip details to one database', or just be looking to transfer your pet microchip details to a database of choice.
Can I transfer my pet's microchip?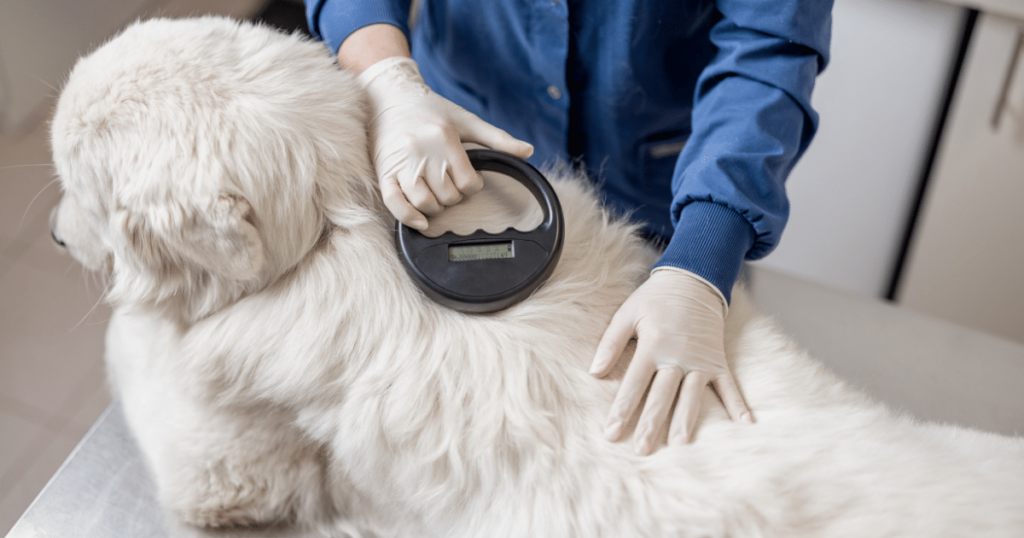 Yes, you can. You have the choice as the pet's owner to decide which microchip database you can register your details with – the process is fairly simple, if not documented clearly in many places.
Once you've identified which database you would like to transfer your pet microchip details to, get in touch with them and provide them with your 15 digit microchip number and your pet details. You will need to then contact your old database and request that they facilitate the transfer of your pet's microchip details – in essence, ask them to remove your details and chip from their database.
Failure to do so will mean that your pet may be registered with more than one database at any one time.
This is fine in the sense that, if your dog does ever get lost, a vet on scanning the microchip will see that you are registered to both databases. They will then need to log in to both databases to identify the most appropriate contact details – one of which will likely be out of date.
Once the previous microchip database has removed your details from their database, your latest details will be available on your microchip database of choice.
If you have more than one pet, you can simply repeat the process to move all pets under one account on one microchipping database – there may be costs involved in doing so for each pet, however.
Some of the databases will allow you to request a transfer online or over the phone, but other services may only allow you to do this with paper forms.
How much does it cost to transfer my pet's microchip details to another database?
Your pet microchip details must be kept up to date on an official government-approved microchipping database service. We checked with the following databases to see if they allowed the transfer of chip details and how much they charged as the new database.
We have not included databases where it was unclear whether a transfer of your chip to their database was possible or their prices for doing so were hidden. Additional costs may not be included so we would recommend getting in touch with each of the compliant microchip databases to see if this is the case.
Below is a list of Microchip databases, and prices charged for a transfer of pet microchip details to their database from an existing database.
| Database | Cost of registering a new pet - transferred from existing database (£) | One off or Ongoing |
| --- | --- | --- |
| Animal Microchips | 19.95 | One-off fee |
| Animal Tracker | 7.95 | One-off fee |
| Chipworks | 19.95 | One-off fee |
| Identibase | 15 | One-off fee |
| MicrochipCentral | 12 | One-off fee |
| Pet Identity UK | 20 | One-off fee |
| Petlog | 17 | One-off fee |
| Petscanner | 2.99 | One-off fee plus ongoing |
| Protected Pet | 24.99 | One-off fee |
| Smarttrace | 19.95 | One-off fee |
| UK PetTrac | 16.95 | One-off fee |
| WeTrace | 15.99 | One-off fee |
As you can see, a range of prices is charged per pet to register your details on a specific database of your choice. Multiple pets that are microchipped may cost an incremental amount per pet but will make life easier when moving address, or updating contact details as a result, with the added benefit that the costs work out cheaper in the long run.
Some databases may require a transfer code to be presented to the new database so they can confirm the transfer of details is a legitimate request. This transfer process will likely take longer and would require confirmation from both yourself and the databases involved.
How can I avoid paying these costs?
Our recommendation would always be to use PetDatabase.com, a new Defra compliant database that is completely free to use, plus they offer a free switching service, so if you want to register all your pets in one place, they makes life very easy. As it's free to use, it also means that you can make as many changes to your details as necessary, throughout the lifetime of your pets, which can save you £££ especially if you have multiple pets. Find our more about PetDatabase.com here
What if I am not happy with my microchip database?
You do not have to stay with your microchip database if you are unhappy.
Simply choose a different microchip database and register your details with them.
You'll then need to contact your existing database to inform them of your intentions to transfer and they will then need to remove your details from the database.
This process for pet owners can take time – often up to 30 days sadly – but whilst you are waiting, your pet will show on the vet's records when they make a search that you are registered to multiple databases. Despite the process taking some months, ensuring your microchip registration details are up to date is of utmost importance.
—
In essence, it is an unknown secret that you can choose your microchip database that your animal is registered to – most of the above facilitate chip transfers and differing costs, and will require some administration your side as you will have to communicate with both databases to ensure details are removed from the old database.
Remember, it is important pet microchip details are kept up to date (including your email address) – separate to any legalities and potential fines – if the details are out of date, being reunited with a missing or stolen dog is significantly less than if someone can contact you.