Simply storing your details concerning your pet's microchip on a government-approved database is not enough to prove 'ownership' of your dog but it can go a long way towards demonstrating the dog is your in situations such as dog theft, or potential disputes.
We outline the other things you should do alongside keeping microchip details up to date, to prove ownership of your dog. To clarify, having a dog microchipped is not solely sufficient to prove ownership under the current legislation.
Whilst it is a legal requirement to have your dog microchipped, it is also a requirement to ensure details are stored on a database – if your dog was not yet microchipped and went missing, a stranger could find the dog and have it microchipped. This does not necessarily make them the owner so your details must be also stored on a database.
When would you need to prove ownership of your dog?
You might have to prove ownership of a pet in any one of the following situations:
Your pet gets lost and is found by someone else who's not keen to return him to you.

Your pet gets picked up by the dog warden or ends up at a rescue.

You and your partner decide to split up, and both of you want to keep the pet.

Your dog hurts someone or someone claims that your dog attacked them.
Keepership versus Ownership – what's the difference?
Under the Microchipping of Dogs (England) Regulations, the person who primarily cares for the dog and keeps them in its home is called a 'keeper' and not an 'owner'.
The dog's chip needs to be registered with the 'keeper' who may not necessarily also be the owner. This does not necessarily mean proof of ownership.
Breeders for example may not consider themselves as owners of the dogs, but as it is their responsibility to ensure that they are microchipped once older than 8 weeks – they are officially 'the keepers' until such time that they are no longer responsible for the care of the animal.
What does being the keeper mean – this means you have legal responsibility for the dog and can be held responsible under the Dangerous Dogs Act or if your dog runs away and causes injury to any third parties. 
Historically, some rescue organisations kept chips registered in their name instead of the owner – so you must check that this is not the case, and they are simply registered as a rescue back up, in case you no longer want the dog, or in case your dog goes missing and the local authorities cannot contact you.
Ways to prove ownership of your dog?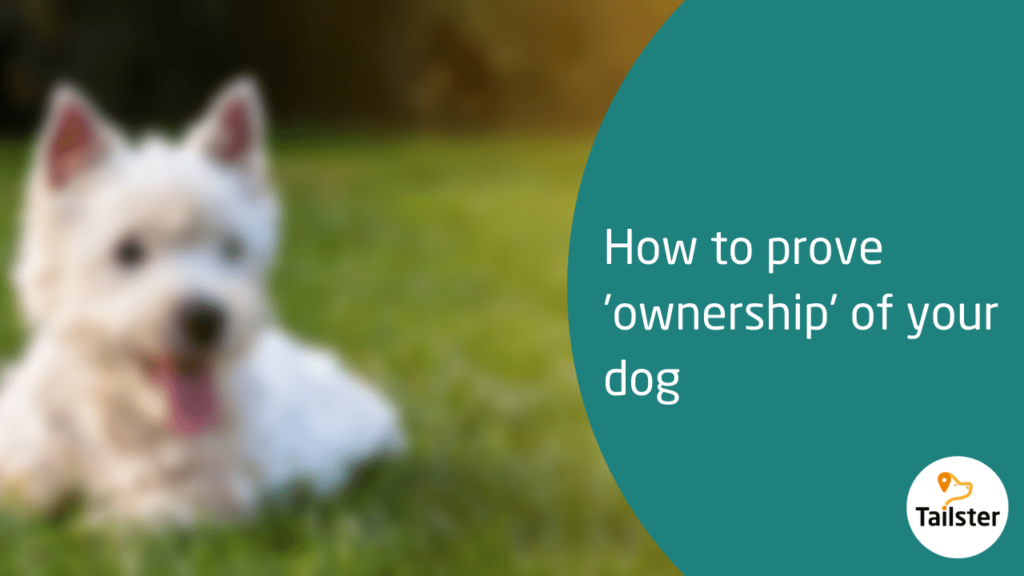 As having your details registered to a microchip are not sufficient, it would be advisable to keep as many other records as possible concerning the purchase of your dog, in case you need to prove ownership.
We'd recommend you keep the following (as many as possible):
Veterinary records

 – keeping these and vaccination records up to date with copies will allow you to demonstrate you have been caring for this pet's welfare if requested. Ideally, the contact details on their records will match what you have with your pet's database.

Tags

 – keeping a collar and tag up to date is a legal requirement and will also be useful. Remember though, that these can easily be removed by someone else if they have your pet.

Photos of your pet 

– no doubt, you'll have a phone full of photos but we'd recommend taking a bunch of photos of your pet at different angles, some with you in them too. All photos taken on the phone will be timestamped too. Having these photos will allow you to provide them if your pet ever went missing. Taking photos of your pet at different angles, showing any distinct markings, are always of use in that situation.

Adoption or purchase records 

– having documents from your breeder if provided or from a rescue with your details on them will be useful. Whilst your breeder is required to update your details on the microchip database once the dog is with you, often this is forgotten and pet owners forget that it is their responsibility to keep these records up to date. In the instance that this happens, the pet will still have your breeder/rescue's details recorded against the microchip on the database. Rescues will often provide adoption contracts confirming they have passed keepership to you.

If you share your pet with a spouse or partner, have something in writing that states who the owner or owners are. Most databases will only allow you to store one keeper – so this can come in useful with potential disputes. Consider a pet agreement form – think of this almost like a prenup or a contract that shows and names who is responsible for the pet's care and also ownership.
—
In summary, whilst microchipping allows you to prove ownership of a dog, we'd recommend storing relevant details safely alongside these details to prove ownership – the more the better.
In terms of the best place to store your pet's details, we'd recommend PetDatabase.com. They are a Defra-compliant database, that is 100% safe and completely free to use, you just need to sign up with your pet and microchip details, and they will let you make as many updates to your details as you need. So if you move house, or change your email, it's really simple to ensure your pet is always 100% safe.
You can find out more about PetDatabase.com here