What is the dog microchipping legislation?
All dogs in England, Scotland and Wales are legally required to have been chipped by the time they are 8 weeks old. This came into law in 2016 under the Microchipping of Dogs (England) Regulations 2015 Act. Similar dog microchipping laws exist in Wales and Scotland, as well as Northern Ireland.
What information do I need to know as a dog owner?
Under the new measures, dog owners must have their pet microchipped and secondly, and most importantly ensure that their details are correctly held on an approved database, and kept up to date.
Failure to do so will result in potential fines of up to £500 if your dog is not microchipped, or if the details are inaccurate or not kept up to date.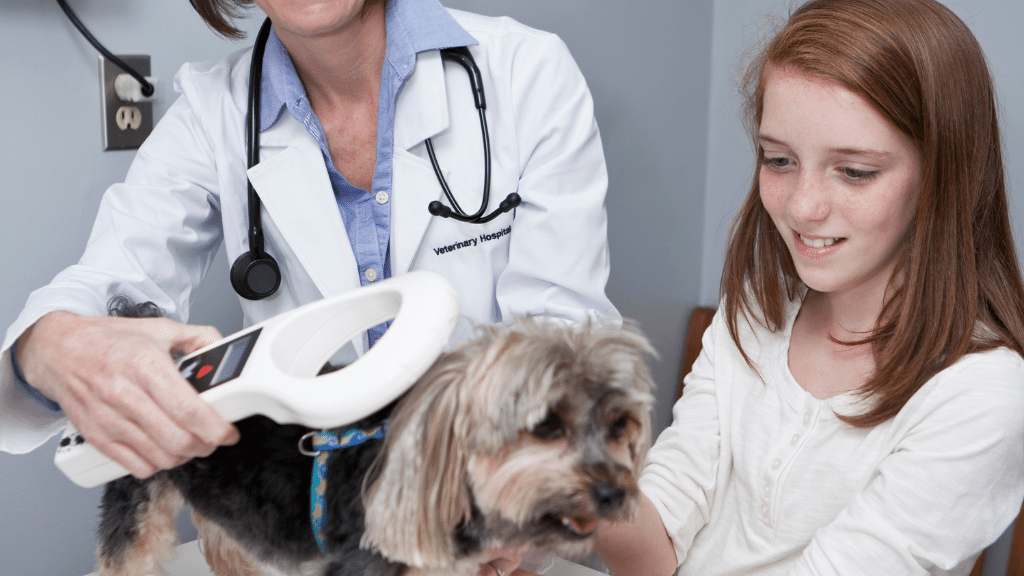 Microchips can be scanned in the instance that your dog gets lost or stolen, and matched to contact details held on a database – making it quicker and easier for dogs to be returned to their rightful owners. With the lack of microchip or other identifier, vets and wardens would not be able to reunite a lost pet with their owner. The Compulsory Microchipping Act is designed to enforce the use of a microchip for the reasons mentioned.
After 6th April 2016, any keeper of a dog aged over 8 weeks must ensure that it is microchipped. Implanting a microchip is not enough, and the legal requirement is that details must be stored on a pet database operate meeting the requirements of DEFRA. There are currently 14 approved pet microchip databases in the UK.
What information do I need to provide to a pet microchipping database?
If an approved database does not hold the following information (or if the information is not up to date), then even if a dog has been implanted with a microchip, it will not be regarded as being microchipped.
In order to be a responsible dog owner, the details you must store with a pet microchip database includes:-
your full name and address as the keeper of the dog. This is usually the person that the dog lives with.
the name of the dog
the contact telephone number of the keeper
the gender and breed of the dog / puppy
the dog's colour
the dog's date of birth (or an estimate if not known)
the microchip number
It is your responsibility as the pet owner to ensure that these details are kept up to date – including notifying the database if you move home or change phone number. This will also assist in demonstrating proof of ownership of the dog.
Who is responsible for microchipping the dog?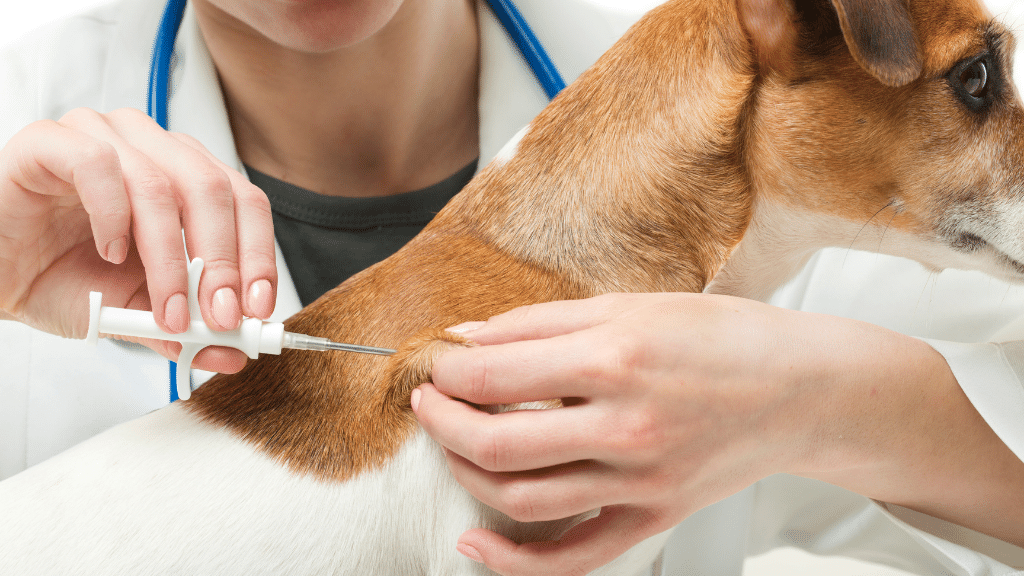 All dog breeders are responsible for ensuring puppies are microchipped before they are sold to a new pet owner. Puppies are not allowed to be sold until they are at least 8 weeks old and must have been microchipped.
Breeders must register their details on the microchip database before they sell the dog, and also will need to notify the pet owner of their obligations to update these details on the database. You are considered a breeder if you are an owner of an animal that gives birth to puppies and subsequently provide those dogs to another person. If you are a professional Breeder of dogs, you will also be required to provide the microchip database with your breeder licence number.
Can you get fined for not microchipping your dog?
If your dog is not microchipped, and also registered on one of the approved government databases, you could be served with a notice ordering you to microchip your dog. If you do not proceed with microchipping your dog within 21 days, you will be liable to a £500 fine and could face criminal prosecution. Your veterinary surgeon will be able to assist with the act of microchipping.
Can you get fined for having incorrect details?
A microchip is not of any use if the details stored on the database are inaccurate or out of date. If your contact details change – this could be your telephone number, address, email address or other forms of contact – and you do not update or notify an approved government database, you may be liable to pay a fine of £500. In addition to this, failure to update details will make it difficult for your pet to be re-united with you if it does go missing. You should check your pet microchip certificate to see the details currently held on the microchip database.
Are there any exemptions for dogs to not be microchipped?
A dog may be exempt from being microchipped for health reasons – a vet would need to certify in writing that this is the case and provide you with an exemption certificate. A microchip is the size of a grain of rice, so the implantation of the chip should not be distressing for your dog, and is usually a quick procedure without adverse reactions.
Who do I need to tell if I'm moving house?
Your pet will be registered with a microchipping database that has been approved by the government. You will be able to contact them and update your details – most will charge an administrative fee for doing so. You do have the choice of registering your chip with a different database and arranging a transfer of chip if you have multiple pets and want them in one place. If you are moving house, whilst it is the last thing that is probably on your mind, its important that you update the details in case your dog does go missing moving to a new environment. Our recent Pet Panel survey on microchipping showed concerning stats that 22% of pet owners who have moved house have not updated their contact details with their pet database.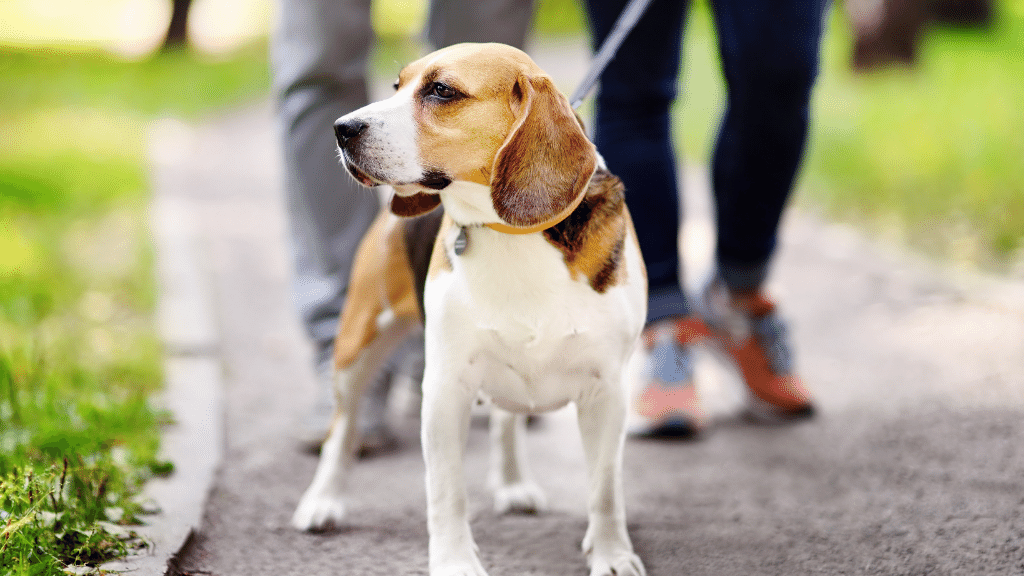 These remain unchanged and are separate to the microchipping laws – the UK Control of Dogs Order 1992 states that dogs must wear a collar and tag with information such as their owners name and contact details when out in a public place. A collar and tag that conforms to the law should make it easy for a dog warden or finder to see who the dog belongs to, and where the dog needs to be returned to without having to necessarily rely on scanning the microchip – hence the first line of defence to get a lost dog back home.
This should not replace microchipping however, as collars and tags can easily fall off or be removed.
—
We hope this has been helpful – pet microchipping has been made compulsory for dogs (and soon for cats) for the reason that it assists in proving the rightful keepership of a dog as well as assisting in pet re-unification if the dog goes missing. It is therefore vital, regardless of the fact that it is a legal requirement, to ensure that not only is your dog microchipped but the details are kept up to date on an approved DEFRA microchipping database. A potential £500 fine should not be the only reason for you not to keep your details up to date!