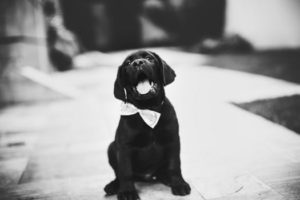 Whether she's your first or fifteenth, bringing a new dog into your home is an important decision. Dog lovers and experienced pet parents know that no two dogs are alike; every dog you bring into your home needs careful, thoughtful preparation to ensure you're right for each other.
If you're living in a city, you may have considered getting a small dog to suit the dog's needs and your lifestyle. However, lots of dog lovers in the UK prefer big dogs and choose a bigger breed as their first dog. And, as the UK's favourite dogs, Labrador retriever are often top on the list for first (and second, and third…) dog.
But is a Labrador retriever the right dog for you? Check out our comprehensive guide to learn more!
Things to Consider when Choosing a Labrador
Whether you've got a Lab or Lhasa Apso in mind, you should think about a few key aspects of your lifestyle to decide which breed might better suit you:
Time commitments
Energy level
Family size, including other pets
House size
Health needs
Available funds
Time on your hands?
Like any dog, a Labrador retriever needs your time and attention. It doesn't matter whether you bring a puppy or a full-grown dog into your life: she will need to spend time with you and become part of the family, especially in her first few months in her new home. Since Labrador retriever are particularly pack-oriented, hands-on training is a must to help them grow into happy, healthy dogs.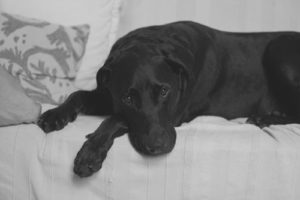 If you work full-time, it's important to consider how much time you'll have to dedicate to your new pet. Can you take holiday from work for the first couple of weeks to spend time with your dog, introduce her to her new home and begin obedience training? Are you able to bring your dog to the office? Do you have a close family member or friend who can care for your dog while you're away at work and on holiday? Be honest with yourself to help you make the right decision!
What's your energy level?
Labradors are many things: loving, curious, obedient and intelligent. These qualities also mean they're high energy! Remember, the Labrador originally came into our lives as working dogs, spending all or most of their day in fields, on farms and at fisheries with their humans. Non-working Labs don't need to be out running and romping 24/7, but they do need regular physical and mental engagement to keep them happy and healthy.
A labrador typically need a good hour's walk, run or park playtime session a few times per day. Of course, your dog's age, size and health factor into the amount of exercise she needs each day. But in general, if you love to walk, run and pursue other dog-friendly outdoor activities, a Lab could be the perfect pet for you.
How big is your family?
Labs love families, couples, singles—no matter your status, a Lab is the best companion you could ask for! This breed adores being part of the pack and will make you the centre of their world. Labs are also gentle, loyal, playful and obedient, making them a great dog for children. They'll be your kids' best friend, tiring them out with their goofy antics and teaching them valuable lessons about responsibility and respect. Labs' even-tempered nature also means they get along with virtually every kind and temperament of dog, making them a good breed to introduce into a home with other pets.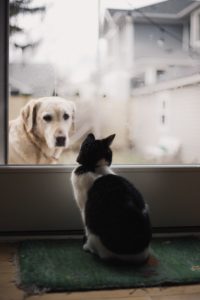 Where do you live?
Whether you live in the city or the country, a Labrador can adapt to almost any environment, as long as she gets the necessary exercise to stay fit and content. You'll often see Labs out in the country simply because more space means more room for your dog to run and more time spent outside. If you live on a working farm, a Lab could be a great choice for you: a working dog, your Lab can help you with the day's chores and then settle down with the family each night.
City flats can make good homes for Labs, too, providing there is space for them to run and play. Does your flat have a garden? If not, are there green spaces nearby where you can take your Lab to walk or run? If you don't have the time or space to dedicate to training and exercising with your pet, a smaller, less energetic breed might be a better option for you.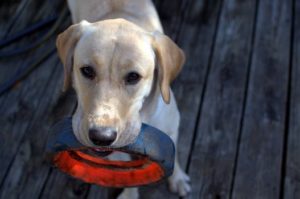 What are your health needs?
If you're active and high-energy already, then a Lab is likely to be your best friend. She'll run, hike, camp and climb with you, no matter what end of the earth you're exploring. If you're looking for a companion to help you kickstart a healthy routine, there's no one better than a Lab to make sure you maintain a routine of exercise and healthy living.
Labs also make loving, loyal companions for those of us who may not be able to get out and go as much as we'd like. Their caring, intelligent and emotionally in-tune nature make this breed a wonderful friend—one reason Labs are often trained as emotional support animals. Just make sure you've got a nice garden for your dog to play in, or a friend, family member or dedicated dog walker to make sure your Lab gets her daily exercise.
Spare no expense?
As a breed, Labs are low-maintenance dogs when it comes to grooming and dietary requirements. They don't tend to need expensive, specially formulated food as dogs prone to health problems or sensitivities do. They're also easy to groom—a quick brush of the coat and teeth, and an occasional bath, is generally all your Lab will need to stay healthy.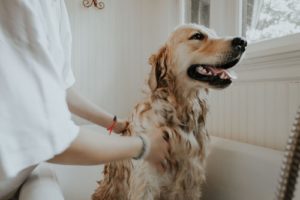 But like other dogs, Labs need routine check-ups with their veterinarian to make sure everything's running smoothly. Given their high energy levels and love of the outdoors, it's also important to routinely administer flea, tick and heartworm treatments to your pet.
If you work full time or simply don't have enough hours in the day, you may need to hire a trusted local dog walker to ensure your pet gets the exercise and attention she needs throughout the day. Dog walkers provide tailored care for your pet—solo walks, playtime in the park with other pups or even a full day of doggy daycare to stimulate and engage your dog while you're away. When deciding to hire a dog walker or pet sitter, be sure to let them meet your pet and take her on a trial walk to make sure it's a good fit for everyone involved. Make sure your dog walker has insurance and experience working with pets; some walkers have certifications in animal care and pet First Aid, so ask before making a commitment. Any pet sitter you hire through Tailster is vetted and has insurance to give you extra peace of mind to know your dog is in good hands!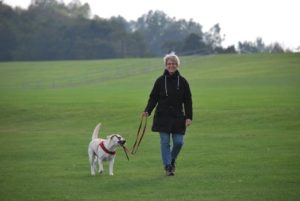 The costs of pet care can add up, but there's more to owning a pet than finances. Time, energy and other commitments factor into pet ownership, too. So before you bring any dog into your home, review your regular schedule and create an honest budget of your current expenses to see how a new pet will fit into your life. If you have the love, energy and time to dedicate to making her part of your family, a Lab will be your constant companion, providing cherished moments of joy all her life!