Many dog owners ask whether they can have a dog if they work full time. It would be a wonderful world if we could just own dogs and not have to have a job to earn money to do useful things like put food on the table and clothes on our backs!
We set up Tailster to help with exactly that problem, we make sure that the right person is available to care for your cockapoo whilst you are at work. We help find you a dog sitter or a dog boarder for your Cockapoo when you are away at work or need to head out of town for a few days.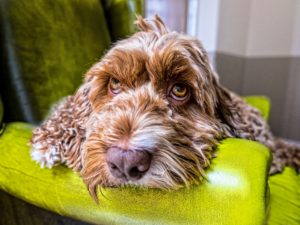 How long can a Cockapoo be left alone?
It is suggested that the longest your dog should spend alone is 4 to 5 hours during the day, but we must say that every dog is different. Younger puppies will need more human interaction, help with doing their wees and poos, so 5 hours is probably far too long in terms of time. As most of us have to work for more than 5 hours a day, this can become quite the issue for dog owners.
You could ask friends and family to pop in and see your Cockapoo during the day. They may not necessarily have to take the dog out for a long walk but a little run around in the garden to stretch their legs, as well as making sure they are fed and have had adequate water.
The key thing is finding a routine that works, that might involve you popping home for lunchtime or getting a family member to be around in the afternoon if you are at work. Doggy daycare for Cockapoos and other dogs is also a very viable option for pet care and you may be surprised to know how cheap it might be.
Why can't I leave my cockapoo alone all day?
Cockapoos are very social dogs and they love human company. If they miss out on that, it can become quite boring and lonely for them.
A dog alone in the house who is bored may also become stressed and anxious which could lead to them being destructive around the house, barking a lot, or anxious, even when you arrive home.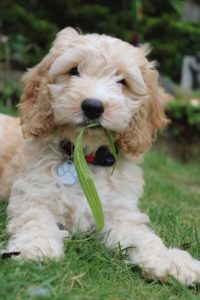 Is Crate Training an Option?
Whilst this could be a good way of keeping your cockapoo at home alone and prevent the destructive nature, leaving them in the a crate for hours on end is not a great experience!
So what options do I have if I am working full time and own a Cockapoo?
We'd recommend using Tailster for pet care – create a request to find a pet carer, pop in your requirements and we will find you available carers who want to take care of your cockapoo. Prices may differ but the general ball park figures are £10 to £30 per day for daycare but our doggy day carers will choose their own prices. If the care is regular, every day whilst you are at work, prices are often slightly lower to account for this.
Friends and family might be able to help but they may not be able to help every day of the week, but could be useful if you can balance with the flexibility of coming home to check in on your dog at lunch time too.
If you've not yet got a Cockapoo, you may want to read whether a cockapoo is for you and 10 reasons why the Cockapoo is so popular in the UK