Border Collies are one of the most intelligent dog breeds in the world. They require discipline to keep them mentally healthy, but any discipline methods should be humane so that your Border Collie will not become fearful or aggressive. This blog post will discuss how to discipline a border collie using positive reinforcement and other techniques that help promote mental health while keeping discipline sessions light-hearted.
Unwanted behavior can be caused by a number of factors, which vary depending on the age and sex of the dog. An owner can help prevent or decrease certain unwanted behaviors by understanding their dog's natural tendencies and taking appropriate steps to keep him occupied. Border Collies often become frustrated and resort to behavior problems when they do not get enough exercise and mental stimulation, even though they are very energetic dogs. Unwanted behaviors can also be the result of anxiety, boredom, lack of training or lack of socialization, which can stem from puppyhood.
When should you discipline your Border Collie?
It would help if you disciplined your Border Collie when it does something wrong. This is easier said than done, however, because discipline for a dog can be tough to judge if you are not experienced with the breed or other dogs in general.
If disciplining your border collie means they will become fearful of you, then don't do it! A fearful dog is a dangerous and unstable one. If you discipline your border collie in any way that makes them fear or distrust you, they will not be able to respect or trust anything else you say.
If discipline does not become an issue for your Border Collie, then it can help with their mental health by teaching them boundaries are appropriate behavior.
Common bad behaviors in Border Collies
It will be frustrating when your Border Collie is misbehaving and needs some discipline. Common bad habits and behaviours that you may encounter include:
not listening to commands or requests

jumping up on people

aggressive barking

stealing food off of counters when they are hungry
Why won't your Border Collie listen to you?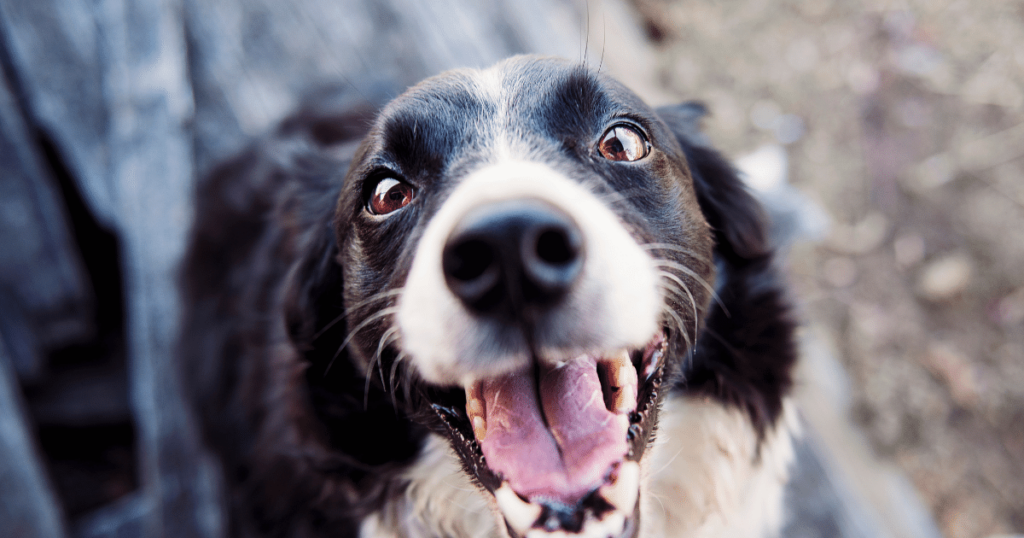 There may be a range of reasons why your Border Collie does not listen to you. They may not be sufficiently stimulated or equally may be very tired. A lack of mental stimulation can be resolved with techniques such as training and exercise. You can find out more about seeing if your Border Collie is bored in our article here.
Your Collie may not be listening to you due to a lack of discipline in the past.
Compassionate Positive reinforcement techniques
One of the best discipline techniques for any dog breed is positive reinforcement. A Border Collie lives in a world where they can learn something new every day, so it's essential to keep training sessions fun and filled with rewards when your Border Collie obeys commands.
Praise your pet with kind words like "good boy" or "good girl" and offer a treat after they complete any command. You can also discipline your Border Collie by withholding treats or attention when they do something wrong. Still, you should never physically punish them with actions like hitting or dragging because this will only cause fear and aggression in the future.
Be consistent in your punishments.
When you need to reprimand your dog, use a short and sharp tone of voice. Avoid at all times any physical aggression because this could make them fear-aggressive and cause injury for both parties involved in the scuffle. Walk away from an angry outburst without saying another word if at all possible so that things can cool off before coming back again if they are ignoring you.
Using treats and praise as a reward and doing so will allow your Border Collie from knowing that they will be rewarded if they do what you say. If they do not deliver on what you need them to, withhold any treats until you get the desired effect and your dog's attention.
If reprimanding your Border Collie and disciplining them – they need to know when they have done something wrong and how to do it correctly next time.
Short and straightforward reprimand words are critical – words such as 'off', 'outside', or 'leave it' are valuable words to tell your border collie to understand house rules. Border Collies are an intelligent breed and will soon realize what they need to do to remain on your good side.
After your reprimand, when they have got it right, ensure you are quick to praise your border collie puppy.
How do I prevent bad behavior in my Border Collie?
One of the best ways to prevent bad behavior and essentially 'to nip it in the bud' is recognizing patterns. Border Collie's are always in need of regular exercise – this does not mean going for long walks necessarily – keeping them occupied in the house and playing games indoors can equally help. A play fetch game with your Border Collie will be a lot of fun for both of you.
Suppose your Border Collie is constantly swiping food from your kitchen worktops. In that case, it's pretty straightforward in terms of prevention – keep this food locked away or behind doors – do not be surprised, however, if they somehow manage to work out how to prise that door open with one of their paws! Chew toys are also helpful distractions and rewards to help in training a well-behaved dog.
Most border collies will pick up on the fact that they are being reprimanded and are an intelligent breed, so they will likely realize they are misbehaving and need to stop after a few attempts.
When should I engage a trainer to help discipline my Border Collie?
If the above suggestions do not work – then it might be time to call in one of the many professional dog trainers that are local to you. A dog trainer specializing in working dogs will reward good behaviour – obedience training and potty training can be difficult. Still, a trainer will assist in that, especially with border collie puppies. House training can improve a dog's confidence at a young age, so it would be recommended that you start training early to nip those behaviour problems in the bud sooner than later.
Conclusion
If discipline is a problem with your border collie, it may be time to call in one of the many professionals specialising in working dogs. These trainers can assist you and your dog with obedience training and potty training, and house training, which will improve their confidence at a young age. The sooner discipline problems are nipped in the bud, the better for both parties involved! However, as we have discussed, a range of small techniques can come in handy if you do not want to go down the training route.