Apart from it being a legal requirement, microchipping can be a good idea for many different types of pets and for many reasons. Microchipping is a simple way to find your pet if they get lost as well as allowing you to use a microchipped pet door!
What is Pet Microchipping?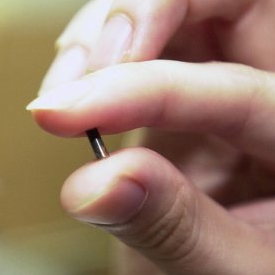 Pet microchipping is when a small microchip implant is inserted under the skin of your pet.
While your pet probably already wears a collar and tag with your contact details, collars and tags can fall off or be removed. Microchipping is a more permanent way of recording a pet's ownership and is a legal requirement for dogs in the UK.
Please note that even if your dog is microchipped, it is still a requirement for your dog to wear a collar that identifies the owner
The microchip is a tiny electronic device about the size of a grain of rice. Each chip has a unique identification number, which can be read by a scanner.
These microchips can also be scanned by things like cat flaps and cat feeders to ensure only your pets get into the house or get fed!
Will This Procedure Hurt my Pet?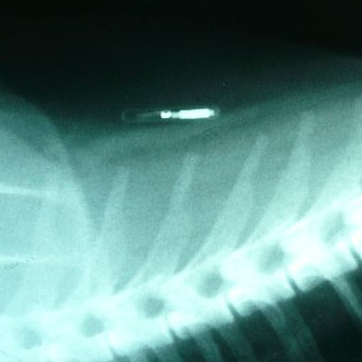 The chip is usually inserted near the scruff of their neck. This ensures that it is easy for a scanner to read the chip, while impossible for your pet to chew at it.
Installing the chip hurts about as much as a routine injection would. It is quick and once the chip is in place, your pet will not be able to feel it.
Why get your pet microchipped?
Aside from being required for a microchip cat flap, they have many other benefits.
If you own a dog or a horse, it is a legal requirement that they are microchipped and registered.
If your pet escapes and loses its collar, if someone finds them and takes them to a vet, shelter or warden, they will be able to reunite you with your pet.
Also, if your pet is a pedigree, it makes it much harder to steal your pet and sell them on as your details are associated with it.
The chip can also aim you in ensuring a dog is pedigree and you are getting what you paid for as all chipped dogs should be traceable to their breeder
On the subject of illegal activities, illegal breeding is another troubling area that microchipping can help to control as the puppies have to be identified and registered.
Registering Your Microchip
Adding the chip is only half of it, you also need to register it with one of the 10 registered databases in the UK
As well as being a legal requirement for dogs, this will ensure that if your pet is found and taken to an animal shelter or vet clinic, their microchip will be scanned to check for the registration number. They will then be able to get your name and phone number from the registry and reunite you with your pet.
How Do You Update Your Pet's Microchip Database Details
Once this has been done you will be told which database your pet is registered on and the login information required to update it. Keep this information in a safe place
This system only works if your information is up to date, so if you move, remember to update your information ASAP. According to The National Dog Warden Association
"40% of the dogs we pick up that are chipped have got incomplete or inaccurate data, meaning they can't be returned." – The National Dog Warden Association
Do I have to Pay To Update My Pet's Microchip Details?
Depending on the database provider, you may have to pay a fee to amend your contact details. Most microchip registrars offer a premium service that may be cheaper over the course of your pet's life. Check with your provider for more details.
Where Should I Register My Pet's Microchip Details?
If your pet's microchip is not already registered, the following databases all meet the current government standards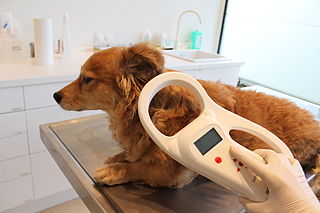 How will I get my pet back if it gets lost?
If your pet becomes lost, more often than not, they will get taken to a vet or an animal rescue centre. Staff there will be able to scan the microchip and read its ID number.
This number will then be matched with your details, so as long as your details are up to date and stored with a recognised registrar you should be reunited with your furry friend.
Just don't forget to update your details if you move home or if someone else takes ownership of your pet!!
Where can I get my pet microchipped?
Pet microchipping is available in most veterinary surgeries, animal rescue centres, and even some pet shops and grooming centres – just make sure that they are fully trained and licensed.
PetsAtHome also offers a microchipping service at many of their stores – follow this link and tick the "microchipping" option to find the closest to you.
Finally, many local authority animal wardens are also trained to microchip pets.
How much will it cost to get my pet microchipped?
Costs will vary hugely according to the pet and the person performing the procedure, but it will typically be under £20
For dogs especially, it is possible to take your pet to certain animal welfare charities and get your pet microchipped for free (although I would recommend a small donation regardless!)
Can I Microchip my Pet Myself?
Technically you can, and there are kits available, however it is not something we would recommend. Once you have paid for the kit, your saving is only going to be a few punds and it is much safer and less uncomfortable for your pet to let a professional do this.
Microchipping dogs
Since 6th April 2016 it has been compulsory to microchip dogs throughout the UK.
The stated aim is to reduce the number of strays and improve canine welfare and give greater protection to the public.
The latter point has divided opinion as to whether this will promote more responsible dog ownership and reduce the number of attacks on people by dogs. Many animal campaigners say that increased microchipping isn't the solution while others welcome the measure.
What is not being debated is, according to statistics from the Kennel Club, over 100,000 dogs are lost, stolen or stray each year. Of these, around 6,000 of these dogs are put to sleep because their owner can't be traced.
When Do You Need To Get Your Dog Microchipped?
You'll need to have your puppy microchipped by the time it's eight weeks old. After this, it will be an offense for your dog not to have been chipped and registered.
What happens if I do not get my Dog Microchipped?
If your dog isn't microchipped with their details registered on a recognized database, you'll be issued with a 21-day notice. If you still fail to get your pup chipped, you could be fined up to £500.
Microchipping and Pet Insurance
While it is a legal requirement for dogs (and may invalidate your insurance if they are not chipped) insurers may give you a better rate if your pet is chipped.
If you use Gocompare.com's quotes process for cats and dogs you van specify whether your animal has been tagged or chipped and any discounts will be applied.
Which Other Pets Can Be Microchipped?
While we have been focussing on cats and dogs, most pets can be chipped. Belwo is a quick guide to some of the more common ones
Parrots, Cockatoos and other exotic birds
Long-lived, quite expensive, and the very definition of a flight risk, exotic birds are great candidates for microchipping.
Because birds, unlike dogs and cats, do not have a subcutaneous (ie fatty) zone into which a chip can easily be inserted and is protected, it is a slightly more involved process.
If the chip is inserted just under the skin the bird may be tempted to chew the lump created by the microchip. so, for birds, the chips are implanted about a 1/4 to 1/2 an inch into muscle tissue on the left side of the parrot's chest.
Horses
Like dogs, horses have to be microchipped by law in the UK. The chip is typically injected into the nuchal ligament located in the neck.
Ferrets
For ferrets, a microchip is implanted between their shoulder blades, much like cats and dogs. However, there are two sizes of chip available for ferrets; the standard ST02, and mini ST04. Your vet will be able to advise on the best for your ferret.
Tortoises
Tortoises also lack a good fat layer to put the chip in. In addition, their skin can carry bacteria that can lead to infection under the skin after it has been pierced by an injection.
So tortoises are usually implanted in their left, rear leg and the area needs to be carefully disinfected beforehand, to prevent the infection.
Due to this tortoises can experience temporary lameness, but this usually subsides within a few hours.
Snakes
Luckily snakes do have a subcutaneous zone in their neck, so the recommended area to microchip a snake is on the left side of their neck.
Rabbits
The process for rabbits is pretty much identical to dogs and cats with the microchip inserted into the rabbit's neck, under the loose skin. Rabbits are masters of the escape plan, so chipping them is usually well worth doing!