When pet owners find out that their beloved companion has lost their sight, it can be pretty daunting news to hear. But with a few adjustments and unwavering support, you can help your four-legged pal build their confidence back up in no time at all. The Tailster team has rounded up their top five tips on how to help your blind pet deal with their loss of vision.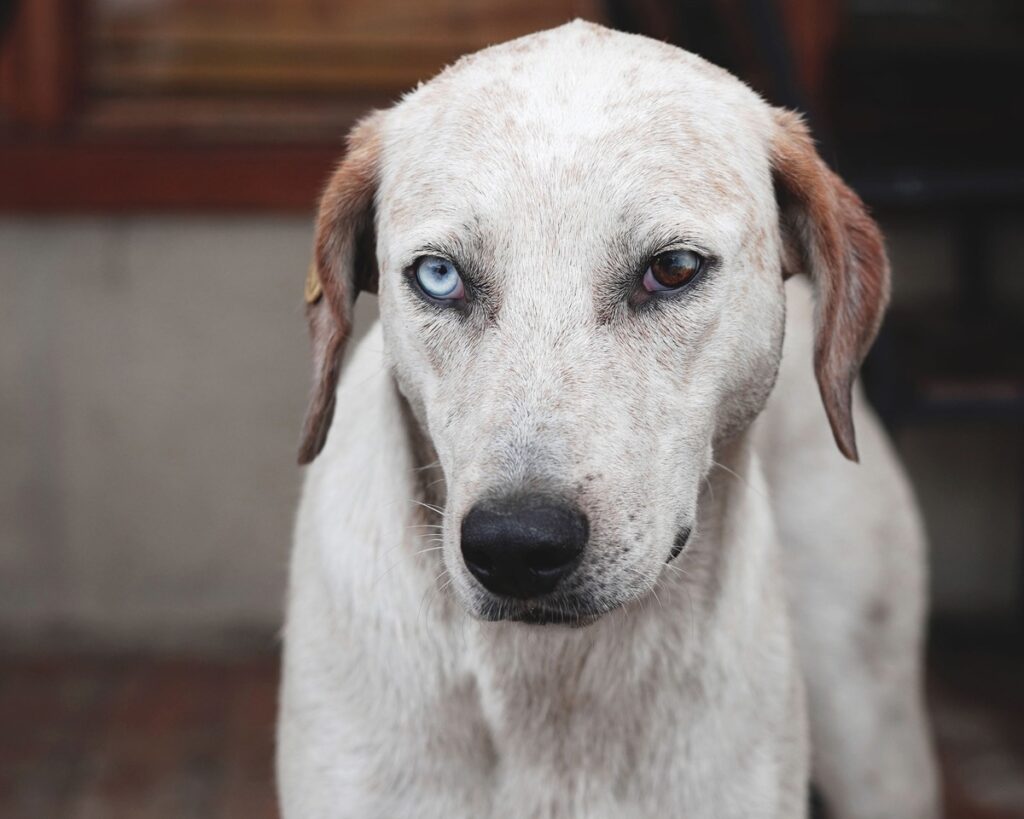 Tip #1 – Keep things consistent
Blind pets have a superpower. They can memorize the layout of a room and navigate without so much as a bump. But be kind to them, especially as they get older. Whilst they can memorise new layouts, multiple switches can be confusing for them and could result in unwanted knocks and scratches as they fumble across the room in search of their water bowl.
If you do want to change up a room, try moving one or two items at a time over a few weeks so it gives your pet time to adjust. Make sure you pick a spot for their food and water bowl and stick to it so your pet can always find its way to the goods. A water fountain can be helpful for blind pets as the sound of the running water will help them find it.
Tip #2 – Out with the old, in with the new – commands for blind pets
This tip is more for our canine lovers out there, though some cats can respond to vocal commands too – but it does depend on what's in it for them!
Whilst your pet probably knows plenty of commands, you might want to expand your pup's collection of cues. By teaching them a few new ones you will help them cope with one less sense. Try teaching 'step' for raised pavements or stairs, 'slow down' or 'stop' when approaching a road crossing and maybe even 'hold on' to let them know when you're going around corners in the car so they can brace themselves!
Your pup will pick up on new cues very easily, but they will be more sensitive to your tone of voice than ever before. You can use this to make it clear when something is urgent or dangerous with a loud, sharp instruction.
Tip #3 – Think like a blind pet…
Imagine walking around on all fours with your eyes shut. How far would you get before giving yourself a black eye?
Make a list of all the potential problem areas and essentially pet-proof the lot. Make sure you block off stairways, pop corner protectors on sharp tables and cover the toilet to avoid any unwanted dips!
Tip #4 – Approach with caution
Interacting with other animals will be one of the biggest challenges your blind pet will face.
When you're out walking with your pup, you'll need to be hyper-aware of your surroundings. Dog body language is so important, and your pooch will no longer be able to read approaching dogs' signals which means they could miss the mark in their own response. Openly communicate your situation with nearby dog owners and pop your own dog on the lead to avoid any nasty conflicts.
If your blind pet shares their humble abode with another animal (or three), it's worth popping a bell on the others so your visually impaired pal doesn't get a nasty shock and lash out in defence.
Tip #5 – Scent marking
Finding out your pet is blind can often be a lot harder on you than it is on the animal. Sight isn't the most important sense to your furry friend, in fact, their sense of smell tops the lot.
You can use scent markers like a lightly applied essential oil to mark doors, new rooms, their bed and their bowls. Make sure you always consult your vet when choosing which essential oil to use so you know which to avoid – some can be toxic to pets.
Once you've narrowed down your top picks of safe oils, allow your pet to pick their favourite by diluting a drop with water and soaking a tea towel. Let them approach the scents and take note of any lip-licking or turning away – that's a sure sign it's not the one!
Maybe your kitty used to love playing with their crinkly toy mouse or perhaps your pooch loved nothing more than a game of fetch with an old ball – well, that doesn't have to stop now. Simply add a drop or two of diluted essential oil to your pet's favourite toy and let their playtime commence!
So there you have it – five tips on how to build your blind pet's confidence back up.

If you have a pet with special requirements when it comes to their pet care, let us know and we'll match you with a tailored, vetted pet carer. Find your perfect match now.