Are Border Collies Good with children? Is it true that Border Collies are an ideal choice for families with children?
Some dogs flourish in family settings, while some may struggle due to their work ethic and energetic disposition. It all depends on behavioural concerns, socialization, adequate training, and regular exercise.
First, we need to understand the temperament of Border Collies and how this impacts how they might be around children. But we also need to understand how Border Collies may interact with children of different ages, and what we should expect of our kids too for your Border Collie to be the perfect family pet.
The temperament of Border collies
As we know, the Border Collie can be intense at times, and this is part of their temperament. They have an instinctive intelligence and because of their history, have high instincts to herd – so they might nip at children's heels if they don't know any better.
To develop a Border Collie into the ideal family dog, we'd recommend socialization at a young age, proper training through an experienced trainer, and regular exercise.
Are Border Collies good living with young children?
Border collies have been living with children for many years, and they can get along just fine. Border Collies are affectionate, and an excellent choice for a family with children. They can however be boisterous, jump on people who come into the house, can be possessive at times with food and toys, and might nip at the heels of children when playing if they are not trained properly. This boisterousness may potentially be an issue around Border Collies and infants, where a normal-sized Collie is bigger and dangerous even if just casually playing.
Younger children will keep a Border Collie occupied, but it is unlikely that this activity will fulfil their actual daily exercise requirements, so it is important that the Collie has access to a large garden and/or long walk each day.
Loud noises and babies don't mix well – Border Collies are known to be rather communicative with their barking. Add that to the mix of a crying baby, and the environment may not be ideal for either party and you!
Living with older children
Older children can get along great with a Border Collie, provided they understand how to behave around them.
As older children will be less likely to cry and make more noise, the issue of loud noises may not be such an issue anymore (although older children can still make quite a lot of noise). They also tend to know better than to startle or grab the Collie unless they are playing.
However older children may also push boundaries, and these need to be enforced by an adult. Older kids could potentially try to play roughly with the Border Collie, which again is something that needs to be watched out for as it can make them uncomfortable around older kids. They may not have had much exposure to older children before so they may not know how to play appropriately.
Remember, older kids can still be unpredictable! A Border Collie may feel threatened if older children are running around playing energetically with toys that the dog is trying to lay claim on or protect.
Having older children can help though – in that they can keep a Border Collie fit and healthy as well as entertained – especially if they can take them outdoors for long walks. As a result, having a Border Collie that has plenty of physical exercise will also mean, by default, that the humans in the household keep fit and healthy too.
Training Border Collies around kids when they are young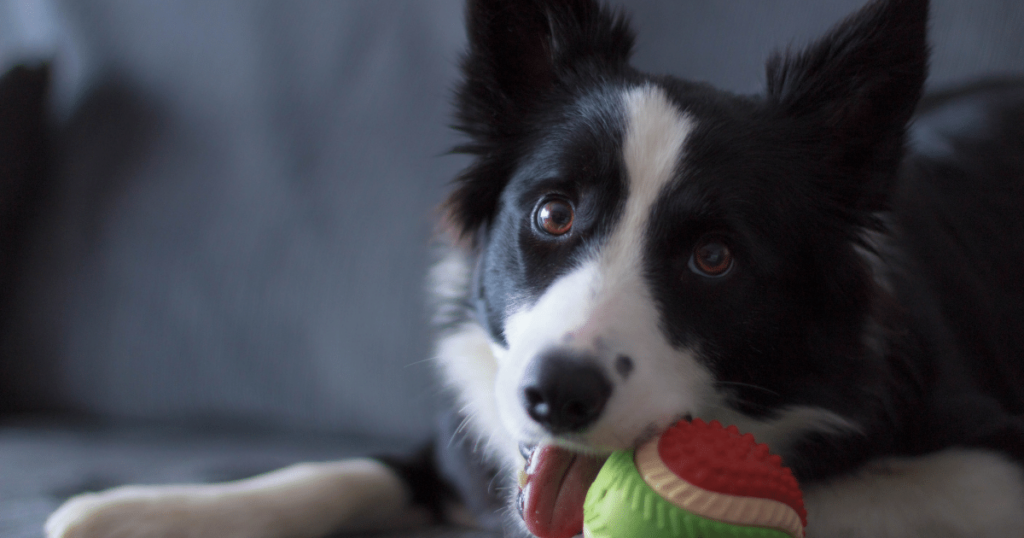 So we know that Border Collies can make great family pets, but this would come from setting boundaries and training them too. The best time to do so would be when your Border Collie puppy is still young.
While your Border Collie is still a puppy, try to expose it to as many children as possible. They may be hesitant at first, but you may bribe them by allowing the youngsters to give them treats. You should be careful to monitor any anxiety in your Border Collie amongst children though, as this can be at times overwhelming. As a puppy, they might not know how to act around them and children likewise.
The Border Collie should be taught that children are nice and pleasant. If your Border Collie gets too rowdy with the kids, make sure they know it's not appropriate. If the dog tries to herd the youngsters, stop him or her right away.
This will make life with your Border Collie much easier. If they know how to play with a variety of children, they'll do far better in the home with your kids. Still, we'd suggest monitoring their activity in the early stages.
Herding and nipping tendencies around children
Border Collies, historically, are herding dogs – and whilst you won't have any sheep in your house – don't be surprised if you find your Border circulating your children whilst they might nip at their heels and feet.
Whilst the chances of injury may be limited, if your children are older – you must stop this immediately. You must do this to prevent the behaviour from persisting and higher chance that there are any mishaps with your children.
Unfortunately, nipping is a part of herding. The calves or sheep are kept in position with little bites at the ankles, and if they run faster or try to flee, the collie may nip, bite, and bark even more. Although this isn't meant to be harmful, it will certainly do so if your Collie attempts this with a small child.
This is more of an issue with working line collies than it is with other kinds of collies, which have been used as companion dogs for many previous generations.
Children need training around Border Collies too
Whilst it is important that a Border Collie is trained around children, your children must be educated too. They need to learn how to act around dogs in general – knowing what is okay and what is strictly out of bounds.
However, if your children are not old enough to grasp the need for respect in dealing with a Border Collie, they should not be allowed to play with it. Children's rough playing can traumatize dogs. In addition, a dog may respond out of fear due to this type of treatment.
Border Collies are not aggressive dogs by nature. Not many dog breeds are. However, they may bite out of fear rather than rage or aggression. But as long as your children give your dog the same love that you do, they'll get along swimmingly. Border Collies are naturally loving dogs.
Border Collies can thrive well in a family environment, and they would thrive especially in an active family.
Conclusion
So, if you're thinking about getting a Border Collie as your next family pet and want to know more before making the final decision then we hope this blog post has helped. The key thing is understanding their herding instincts and nipping tendencies so that both dog and children can live happily together in harmony! Border Collies will give you attention and keep the whole family fit and healthy and on your toes, but may be more work if you have to look after a younger child too. Making that choice of family pet is an important one and is dependent on some of the lifestyle factors we mentioned above.