According to the breed standard, an Australian Shepherd should have moderately sized triangular ears that sit high on the head and break forward.
This is known as a side ear placement or "button ear" shape, however, "Rose Ears", where the ears fold to the side or back, are also acceptable.
However, this is not the whole story as Aussie's ears can come in a variety of different shapes and styles.
What type of ears do Australian Shepherds have?
For an established breed, Australian Shepherd's ears are surprisingly non-standard. Some have ears that stand erect (or "prick ear") others floppy. Some Australian Shepherds even have two different ear types!
To make it even more confusing, there is no guarantee that a purebred Australian Shepherd from parents with one type of ear will possess the same, although it is more likely.
So while button ears and rose ears are the standard and the most common due to breeding practices, there is a wide range, even within pure-breed Australian Shepherds.
While you will not see them in the show ring, it is not uncommon to see Australian Shepherds with erect ears in working or performance dogs, but floppy-eared dogs are pretty rare. This is probably because droopy ears are so atypical of an Australian Shepherd that breeders have actively bred this trait out of their dogs.
Why do some Australian Shepherds have Erect Ears and others floppy?
Quite simply, the different ear types that Australian Shepherds have are genetic and genetics is complicated, random, and not completely understood.
So, in the same way, that some people are left or right-handed, you simply do not know which your child will have until they start using their hands, you will not know what type of ear your Aussie will have until they finish teething.
The Breed Standards
If we look at the American Kennel Club (AKC) and The Kennel Club (KC) we see that they treat the Aussies' ears slightly differently, but are broadly the same. This is not too much of a surprise as the Australian Shepherd is an American breed, so the other Kennel Clubs tend to follow the lead of the club where the breed is originally from.
Before we look at the standards, please note the word "fault" does not mean that erect ears affect their ability to hear or any other aspect of their health. The "fault" only applies to the judging of a dog's appearance for shows.
The AKC Standard for Australian Shepherd Ears
The AKC states that
Ears are triangular, of moderate size and leather, set high on the head. At full attention, they break forward and over, or to the side as a rose ear. Prick ears and hanging ears are severe faults.
The KC Standard for Australian Shepherd Ears
While the KC states
Ears: Triangular; of moderate size and thickness with a slightly rounded tip. Set high on the side of the head. When alert, brought forward and carried semi-erect, with half to three-quarters of the ear breaking forward or to side.
So No Erect Or Floppy Eared Australian Shepherds?
No, the standards are very much against floppy-eared dogs as well as those with erect ears. Don't worry though, as far as their general health is concerned, the type of ear your Australian Shepherd has is irrelevant.
So if you are not looking to show or breed your dog, then a dog with droopy ears still makes a great family pet, working dog, or a very capable dog sports contestant!
The good news is that if you are not looking to show, those floppy ears will make a purebred Australian Shepherd much cheaper too
Why Is Button Ear Considered Breed Standard?
Erect standing ears are naturally occurring among pedigree Australian Shepherds. In fact, a few of the dogs that made up the Australian Shepherd Foundation had ears that would stand up.
The first official standard was approved in 1977 and the standard was not, at that point, well documented and enforced. The committee became worried that many of the dogs that had been accepted, were not purebred Australian Shepherds, and hence risked the purity of the breed.
It so happened that many of the dogs that they were not convinced by had erect ears. The committee's solution was to make prick ears a serious fault and hence not considered "correct" for Australian Shepherds. They felt that this would focus attention on the prick ears to discourage acceptance of any dogs they felt were not purebred Aussies into the breed.
This "fault" has persisted to the present day. It is even more remarkable as, when compared to most other popular working dog breeds, they almost all allow erect ears as part of their breed standard.
Rose vs Button Ears on an Australian Shepherd
The side-placement or "button ear shape" is the typical look for Aussies, but Rose Ears are also acceptable, but rarer in show dogs.
What Are Rose Ears?
Rose ears are where the ear placement is still high and the ear flap drops but has a fold that makes it break to the side rather than forward. This type of ear is common with sighthound breeds and some traditionally cropped breeds will have rose ears if the ear is left uncropped.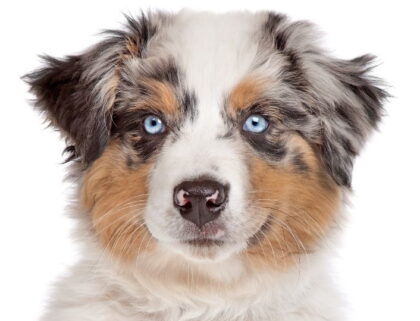 When Do Australian Shepherds Ears Stand Up?
Like most breeds, Australian Shepherd puppies' ears will develop over the weeks after birth. You should have a fair idea of what the adult earset will be by the time a puppy is a couple of months old.  Most changes happen at a young age, and drastic changes after six months are unusual.
Australian Shepherds are not born with the ears that they will have as adults. Instead, the cartilage has to harden before you can see what type of ears they have naturally.
Ear changes can occur, sometimes quite dramatically, at anytime in the first 12 weeks of a dog's life. A dog may have completely floppy ears that suddenly turn into prick ears after they've already been adopted. This can be a problem for some dog owners, as you will usually choose your puppy before they are 12 weeks old. Your puppy's ears may continue changing after you bring them home, depending on when you take them home.
While the puppy is teething, its ears may do any number of things. All the muscles in the head are interconnected, so you can never really tell what a puppy's ears will look like until after they are done teething.
The ears may be floppy for a week, then suddenly turn erect, and then turn floppy again. What a dog's final ears will look like is nearly impossible to tell. There are a lot of theories, as people tend to dislike unpredictable things. But none of them work completely and often aren't better than the 50/50 chance of just guessing.
Can I Fix My Australian Shepherd's Prick Ears?
There is no easy way to "fix" a dog's earset after a puppy has finished teething. Some breeders will look to use tape or glue to set the puppy's ears "just in case". This is OK for show dogs but can make future breeding difficult as you will not know what your Aussie's ears would have looked like naturally.
For this reason, it is not recommended unless you are not interested in breeding later.
Taping or gluing erect standing ears to achieve the right look is becoming more and more common and has a lot of strong opinions around whether this is cheating. In practice, though, many authorities will turn a blind eye and let it go.
There are some artificial alterations, but these are not allowed under any Kennel Club rules and it is considered cheating. Since the only reason to undertake any of these is to get your Aussie to the standard, there is no reason to put your dog through this.
How do I get my Australian ears to stay down?
If your Australian Shepherd puppy currently has erect or prick ears, and you want the ears to break forward into the traditional look, taping or gluing are your options.
What is taping or gluing your Aussie's ears?
Taping or gluing is the practice of taping or gluing an Australian Shepherd puppy's erect ears in a side-placement position so they pass the breed standard.
For the effects to be permanent, this needs to be done while your Australian Shepherd is still a puppy. The amount of time the tape takes to create the desired look varies greatly.
It is common for owners to tape their pup's ears for several months to achieve a permanent change, while some people use taping as a short-term "fix" to get their dog's ears to look right for a show.
Will Taping or Gluing Hurt Your Australian Shepherds Ears?
The process of taping or gluing is not simple. Australian Shepherds have 18 or so bones and a lot of ear cartilage that you can easily damage by taping or gluing them the wrong way.
Do not be tempted to look at tutorials on YouTube or similar as many of the tutorials give very poor advice on how to position the ears when taping or the importance of the ear cartilage.
Australian Shepherd's ears are pretty sensitive. There are also many inappropriate products on the market that have caused damage to many dogs over the years.
Often, while they are healing from any injury, they will have grown too old for the taping or gluing to have any permanent effect, so it is worth getting it right the first time.
So take advice from a veterinarian before attempting any of these techniques.
Conclusion
As we now know, a "perfect" Australian Shepherd should have moderately sized triangle ears that sit high on the head and break forward, the "button ear" shape or the ears fold to the side or back in the "rose ear" shape.
However, not all Australian Shepherd's ears will be like this. It's still possible for purebred Australian Shepherds to have prick, semi-prick, or erect ears as an adult.
Some owners and breeders will tape or glue their Australian Shepherd's ears down into a traditional appearance if they suspect the ears are remaining in an erect position.
If done correctly this should cause your dog no real pain or discomfort, but if you decide to do this with your dog, we strongly advise you to seek help from a professional to avoid accidentally damaging the ears.
But, if your Australian Shepherd is your pet or a working dog, then why worry? The shape of their ears is what makes them yours!