Walking your pup is a great way to get them the exercise they need and give you some fresh air. But it's also important to be considerate of other dog owners, neighbors, and community members while out on a walk. This article will provide helpful tips for being an upstanding canine companion in public spaces.
Dog walking etiquette goes beyond just picking up after your pet; there are many things that responsible dog owners should keep in mind when taking their pup outside. From following leash laws to bringing extra supplies, this guide has all the advice you'll need for having respectful walks with your furry friend!
Introduction: Why Dog Walking Etiquette Matters
Dog walking is often seen as a leisurely stroll with your furry companion. But, what many people don't realize is that it can also be a huge responsibility. Dog walking etiquette isn't just important for the safety of you and your pup – it's crucial to being a considerate neighbour and community member.
Unfortunately, not everyone follows dog walking etiquette guidelines which can lead to stressful encounters between pet owners and those who share their space. To avoid any potential issues, understanding the basics of courteous canine companionship is essential. That way, you can enjoy all the benefits of having a four-legged friend without worrying about upsetting yours or your neighbors' peace of mind.
Of course, learning how to properly walk your pooch involves more than just picking up after them in public spaces (which should go without saying). So let's take some time to explore why dog walking etiquette matters and how we can use it to become better neighbors – both on our own block and in our larger communities. With respect comes trust, so let's strive for harmony!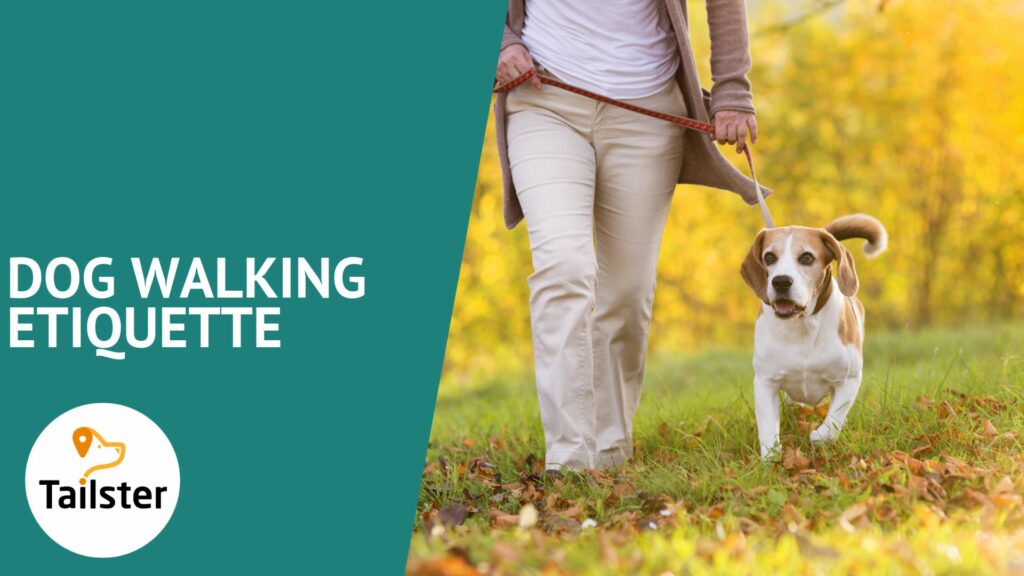 Being A Considerate Neighbor: Tips For Walking Your Dog Safely And Respectfully
Dog walking etiquette is not only important for having a well-behaved pet, but it also plays an essential role in being a considerate neighbor. It's essential that dog owners know how to keep their pets under control while on walks and respect the space of other people. In this section, we will provide tips for keeping your pup safe and respecting others during walks.
First, always make sure your dog is wearing visible identification tags with their name and contact information just in case they wander off or someone finds them. Also, be prepared by carrying necessary items such as poo bags and treats when you go out with your pup. You should also stay vigilant at all times and use a leash if required so that your dog cannot run away or get too close to strangers without permission.
Finally, remember that most dogs do not like being approached by strangers unless given explicit permission from their owner first; therefore, it's best to keep your dog at least three feet away from any unfamiliar people or animals until everyone feels comfortable enough to interact safely. This includes steering clear of any fenced areas that may contain another animal living there – even if you are certain that no one else is home! Respectfully abiding by these guidelines can help create a safer environment for both you and your four-legged friend to enjoy during walks together.
Being A Responsible Community Member: Tips For Cleaning Up After Your Dog And Following Local Regulations
As a dog owner, it's important to be aware of the impact you have on your local community when taking your pup for walks. Whether you're walking around your neighborhood or heading out for an adventure in nature, there are certain etiquette and regulations that should be followed so as not to disturb other people and animals. To ensure all dog owners can continue enjoying their daily walks without disrupting those around them, let's explore how being responsible with our furry friends helps create a more harmonious environment.
Picture this: You're out on a morning walk with your pup, breathing in the fresh air, watching as birds flutter overhead. Suddenly, another dog-walker is coming towards you from the opposite direction—but instead of keeping his eyes trained forward, he's looking down distractedly at his phone! Your own beloved companion notices first, straining against its leash with excitement while leaving behind…well, we won't go into details here. The point is clear; if everyone acted responsibly during their walks by cleaning up after their dogs immediately and following local regulations regarding pets outdoors, these sort of awkward run-ins would happen far less often.
No one likes having to worry about stepping in messes left behind by irresponsible pet owners–especially since many areas now require us to pick up after our pups anyway! Being mindful of where we take our pets and how we dispose of any waste they leave behind means fewer messy surprises for unsuspecting passersby and better relationships between neighbors who also enjoy spending time outdoors with their canine companions.
Dealing With Encounters With Other Dogs And People On Walks
When walking your dog, it is always important to be mindful of other people and pets. It's essential to keep a good distance from strangers and their dogs in order to avoid any potential conflicts or dangerous situations. If you come across another person on your walk with their own pet, always ask if it's okay before approaching the animal. This will help ensure that both animals remain calm and friendly during the encounter.
If an encounter does become uncomfortable for either party involved, don't hesitate to move away slowly while still keeping your dog under control. Allowing some space between yourself and the other person can diffuse a potentially difficult situation without putting anyone at risk. It is also helpful to use calming commands with your pup throughout this process in order to show respect for others around you.
It is important to remember that not all dogs are socialized equally and may need more patience when interacting with them. Always pay attention to body language signals so you can take appropriate steps to make sure everyone remains safe during these encounters. Provide clear direction for your pup by using verbal cues such as sit, stay, or heel so they understand what is expected of them in different scenarios. By taking into account these simple pointers, you can be sure that all parties have a positive experience out on walks!
Being considerate of those around you while out walking your dog goes beyond just being polite; it helps create a sense of community amongst neighbors who share common spaces together.
Conclusion: Improving Your Community Through Responsible Dog Walking
When it comes to improving your community through responsible dog walking, think of yourself like a shining star that lights up the night sky. Your actions can make all the difference in how other people perceive you and your pet companion.
First and foremost, always remember to be courteous towards others on the sidewalk. Greet each person with a friendly smile or wave as you pass by, regardless of whether they have a dog or not. Doing so demonstrates respect for their space while also showing that you care about them and their safety. Additionally, don't forget to pick up after your pup if they do their business along the way. This helps keep sidewalks clean and free from messes, which is beneficial for everyone in the community.
Second, never underestimate the power of being mindful when out walking with your pup. If another dog appears to be scared or uncomfortable around yours, give them both enough room to feel safe without feeling crowded or threatened. Even better than that: take some time to get familiar with local leash laws before setting out on walks together – this will ensure that you and your furry friend are abiding by any regulations set forth by your city or town government. By doing these things, you become an example for other conscientious citizens who are striving to create a positive environment within their own neighborhoods and beyond!