Canine hip dysplasia is a relatively common genetic skeletal condition, generally seen in larger breed dogs, such as labrador retrievers, although it can affect smaller breeds and even other pets like cats too.
This painful condition affects male and female dogs equally and can drastically reduce a dog's quality of life and is difficult for dog owners to watch.
However, if this joint disease can be diagnosed early it can be treated or managed to minimise its effects. If it does develop further there are treatments, even if they are more severe.
So read on to find out what it is, how you spot it, and the common treatments.
Please note: this article is not a replacement for medical advice and we strongly recommend you consult with your primary care veterinarian before making any decisions about your dog's health.
What is Hip Dysplasia in Dogs?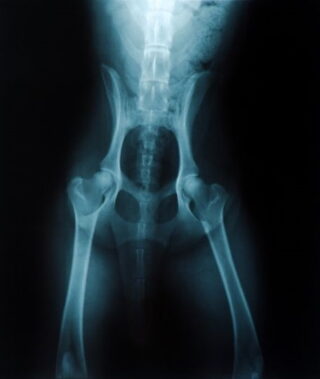 In hip dysplasia, the ball and socket joint of the hip do not fit together properly so the hip joints do not glide smoothly. Instead, they rub and grind and do not form a stable joint.
It develops initially as they grow from puppies into adults. For a healthy hip joint, the ball (the top of the thighbone or femur) and the socket in the pelvis (the acetabulum) must grow at equal rates. If this does not happen, the joint becomes loose and unstable.
This looseness is called laxity. It is this laxity that leads to issues in later life.
When left untreated, the condition can lead to degenerative joint disease (DJD) or osteoarthritis (OA, also known as degenerative osteoarthritis), which is the body's attempt to stabilise the joint.
Over time this will lead to hind end pain, stiffness, or limping.
Does Hip Dysplasia only Affect Large and Giant Breed Dogs?
While a large or giant breed dog will be most susceptible to hip dysplasia, any dog can be affected. In fact, according to a study by the Orthopedic Foundation for Animals of dogs born between 2011-2015, the breeds ranked 1st and 2nd most at risk were English Bulldogs and Pugs
Furthermore, a meta-review of scientific literature going back to 1980 observed that Siberian Huskies had the lowest chance (3-5%) of developing hip dysplasia.
So while larger dogs are generally more prone, it is by no means limited to them.
What Causes Hip Dysplasia in Dogs?
Hip dysplasia is caused by the formation of a loose hip joint, which occurs as the dog grows from a puppy into adulthood.
The cause is usually bone growth outpacing the development of the soft tissue structures around the joint. This leads to poor joint stabilization, which becomes joint laxity. This restricts normal hip function, which results in osteoarthritis.
While there is a very strong genetic component to the risk of the hip becoming malformed, genetics alone don't explain it. So some low-risk dogs develop it while others with a much stronger genetic predisposition do not.
Along with genetics, research has now shown the chances are also affected by diet, environment, exercise, growth rate, muscle mass, and hormones.
Genetic Factors
It was recognized many years ago that dogs with hip dysplasia often had puppies that went on to develop the condition which indicated it was inherited.
However, while scientific advances have given scientists more insight into the genetics of affected dogs, they have so far been unable to pinpoint the specific gene, or genes, responsible.
The good news is that research has found that as breeders become more aware of hip dysplasia and the technology to screen for it and remove it from the breeding pool improves, fewer dogs are developing it.
For example, Bernese Mountain dogs, Rottweilers, Briards, White Swiss Sheepdogs, Gordon Setters, and Berger Picards have shown a significant decrease in cases compared to historic norms.
How can hip dysplasia be prevented in dogs?
As mentioned above, research has shown that, while genetics plays a large part, the chances of developing hip dysplasia are affected by environmental factors such as diet, environment, exercise
These factors are very much within an owner's control and can greatly influence whether your dog develops hip dysplasia and the severity if it does.
Feeding, Weight, and Nutrition
Feeding and exercise seem to be major factors in whether young dogs develop hip dysplasia.
One study of high-risk puppies found that when fed as much as they wanted to eat, two-thirds of the puppies went on to develop hip dysplasia, while only one-third of puppies fed measured meals suffered any joint disease.
A study of German Shepherd puppies showed that overweight puppies were almost twice as likely to develop it when compared to their normal-weight counterparts.
This means that puppies should be kept at a normal, lean weight during growth, rather than overfed and encouraged to grow bigger or faster.
Since hip dysplasia in dogs is most commonly seen in giant and large breed dogs (generally greater than 50 lbs or 22 kg), it is advised that you go with diets specially formulated for large breed puppies.
Heavy Exercise
Heavy exercise has been shown as a contributing factor to hip dysplasia. So to give your dog the best chance of developing healthy hip joints, don't be tempted to work them too hard until they are fully grown.
So give your dog's joints a chance to grow and bed in during their adolescence with light exercise and play.
Do all dogs with Hip Laxity develop Hip Dysplasia?
No, some young dogs' loose hips will stabilize as they become adult dogs.
If your puppy has excess laxity, a program of physical therapy, restricted exercise, and medical management, where required, can greatly increase their chances of reaching stability.
Treating hip dysplasia in its early stages this way, saw around 30% needing advanced therapies later in life, compared to around 65% if left untreated.
What are the symptoms of hip dysplasia in dogs?
When suffering hip dysplasia dogs usually display weakness and pain in the dog's hind legs. Other clinical signs are a reluctance or awkwardness in getting up from sitting or lying or a reluctance to climb stairs.
Many dogs can develop a swaying, "bunny hopping" gait, lameness, or become a bit wobbly on their feet.
If they have been experiencing this for a while, you may see less muscle mass in the thighs and a build-up of shoulder muscles as they compensate for the weakness in their hind-quarters
At what age will you see the symptoms of hip dysplasia in dogs?
Although canine hip dysplasia begins in puppyhood, and some young dogs develop clinical signs when they are only a few months old, it often takes years of gradual bone degeneration in the dog's hips until a dog becomes symptomatic.
While many pet's clinical signs will begin to show at around one to two years old, dogs only mildly affected may not show clinical signs until they are much older.
To make it worse, dogs can be very stoic and will not always show symptoms. Regardless, it is very painful, regardless of whether your dog has symptoms or not.
So if your dog comes from a family with a history of hip dysplasia or from a breed that is susceptible, it is worthwhile taking them for a radiogram before they develop symptoms.
Early diagnosis of the condition will decrease or even prevent long-term arthritis caused by hip dysplasia in dogs. This will allow you to manage the condition and reduce your dog's pain and your long-term veterinary bills.
How is hip dysplasia diagnosed?
Diagnosing hip dysplasia is usually done with a radiograph (a type of X-Ray) under a general anesthetic.
Your veterinarian may also manipulate the hip to check the hip joint's laxity, but will typically need a radiograph to be sure.
Does Hip Dysplasia Affect Your Dog's Life Expectancy?
The life expectancy of dogs with hip dysplasia is generally unaffected if their joint health is well managed. Below we go through the medical management you can do to help your dog stay as fit and active as possible.
Along with these, your dog should see your veterinarian every six months to monitor progress and adapt any treatments as required.
What is the best way to treat hip dysplasia?
Initially, it is not a case of treating dogs with hip dysplasia, it is a case of good medical management of the condition.
In the early stages, there may not be any need for medication. As it progresses, however, medication for pain management and even surgery may be required.
Below are the typical ways to treat hip dysplasia, from the mildest to the most extreme.
Exercise
While your dog is mobile and not in obvious pain, moderate daily exercise can help strengthen the support structures surrounding the hips and keep your dog mobile.
Avoid Impact
You need to avoid high-impact activities such as jumping, so ensure they sleep on the floor or give them an easy route on and off of your bed if they sleep with you.
Weight Management
The more a dog weighs, the more stress is placed on its joints. So you need to ensure your dog does not become overweight.
However, make sure they are eating enough to maintain a healthy weight or they will not have the raw materials to build the support structures around their hips.
Physical Therapy
Physical therapy is a very effective way of improving an affected dog's quality of life. It helps with pain relief and mobility and should be part of any treatment protocol.
Acupuncture 
Acupuncture for dogs has been shown to decrease pain and improve muscle strength and joint mobility
Cold laser therapy
Cold laser therapy, or low-level laser therapy, is a noninvasive procedure that uses a Class IV laser to increase blood circulation and stimulate healing.
It has been used to treat dogs with arthritis, tendon, and soft tissue injuries, although there is not yet enough hard, clinical evaluation to prove its effectiveness.
Joint Supplements
Most vets will start dogs with oral joint supplements to aid their joint health, such as glucosamine, chondroitin sulfate, and omega-3 fatty acid.
Glucosamine
Glucosamine is a natural chemical compound that helps the cartilage that cushions bones improving joint health
As your dog gets older, the levels of this compound begin to drop, which leads to the gradual breakdown of the joint, and glucosamine sulfate supplements can help counteract this effect.
Chondroitin sulfate
Chondroitin sulfate is a compound in the body that helps form hyaline cartilage, a connective tissue that cushions the joints. This can help with joint pain and other symptoms of osteoarthritis
Omega-3 fatty acid
Some clinical trials have shown that taking omega-3 supplements may decrease inflammation and relieve joint pain.
Polysulfated Glycosaminoglycan Injections
Dogs with more painful symptoms can benefit from polysulfated glycosaminoglycan injections on a regular basis.
This has been shown to inhibit the enzymes that degrade cartilage and bone, suppress painful inflammation, and stimulate the synthesis of replacement cartilage
Medication
Your veterinarian will determine the medication on an individual basis based on the dog's clinical signs and amount of pain and discomfort. This is not always a simple process and various drugs may need to be tried before finding the most effective one
The most commonly used medications for pain management are nonsteroidal anti-inflammatory drugs (NSAIDs). NSAIDs are very effective and have minimal side effects, but do need to be monitored.
Surgery
If NSAID and physical therapy are not working, surgical procedures may need to be considered. Depending on the dog's age and health of the dog, surgical intervention has a good prognosis and can return dogs to a largely normal life.
There are several surgical options, your veterinarian will be able to advise which, if any, are the best course for your dog.
Pubic Symphysiodesis
Prior to 18 weeks of age, dogs can undergo a procedure called juvenile pubic symphysiodesis.
In technical terms, this procedure induces the premature closure of the pubic symphysis by thermal (electrocoagulation) necrosis.  When this happens, acetabular rotation occurs in such a way that the femoral head coverage is improved,
For you and me, this means that it can reduce the looseness in the joint and hence reduce the risk of CHD.
It is described as minimally invasive, or it requires a small incision, with minimal complications reported and a good chance of a beneficial outcome.
Triple Pelvic Osteotomy
Dogs younger than 12 months can undergo a procedure called a triple pelvic osteotomy.
This procedure involves bone cuts in the pelvis so that the socket portion of the joint can be rotated over the ball. The bones are then stabilized with a bone plate.
While usually very effective, this procedure can only be done on dogs with no sign of osteoarthritis in the joint
Each side is generally done individually, with each procedure separated by four to six weeks
Total hip replacement
Older dogs will need more drastic surgical procedures such as a total hip replacement (THR). Joint replacements are amongst the most challenging operations performed by veterinary orthopaedic surgeons. To be considered, the dog must be otherwise healthy and not responsive to other measures.
The first step involves taking radiographs of the pelvis and thigh bone (femur) to match both the ball and socket up with the available prostheses (replacement parts).
There are two forms of prothesis – cemented and cementless – depending on how they are secured once the original pieces of bone are removed. The applicable type will be chosen based on the specifics of your dog's hip dysplasia.
The operation is done through a relatively small incision. The hip is separated and the pieces of the pelvic bone that are to be replaced are carefully removed prior to placement of the prostheses. The new hip components are then brought together and reassembled (reduced) and the hip is checked for stability.
Further radiographs are taken once the operation is done to check the position of the new hip joint and the process of recovery and rehabilitation begins, taking many months, usually on pain medications.
Femoral Head Ostectomy
A femoral head ostectomy (FHO) is a surgical procedure that removes the head and neck of the femur (thighbone).
Initially, the muscles of the thigh hold the femur in place. Over time scar tissue forms between the acetabulum in the pelvis and the femur providing cushioning creating what is termed a 'false joint'. While this joint is very different from a normal hip joint, in most dogs it removes pain and gives them a good amount of mobility.
FHO works very well to support the weight of smaller dogs (under 50 pounds), more energetic dogs, with better-developed muscles to support the hip. It is generally less effective in large-breed dogs as the stress their larger bodies place on the hip is greater, although some larger dogs can make good candidates.
An FHO is cheaper than a hip replacement and can also be a better solution for chronic stage arthritis sufferers.
After surgery, the recovery and rehabilitation process should take around 6 weeks before your dog is back up and running with a near-normal range of movement.
Conclusion
As we have found out, hip dysplasia initially develops in puppies. While there is a large genetic component in the chances of any dog getting it, environmental factors are also a part. So as an owner, you need to be aware of these and take appropriate measures, especially if your dog is at high risk.
Should your dog develop hip dysplasia, there are many ways of managing it, not all of them expensive. However, if the worst comes to the worst, and surgery is required, then it is likely to be expensive. So if your dog is of a high-risk breed, make sure your insurance covers these treatments.