Dog car seats should be an essential part of your equipment. This is why we feel obliged to write this article on top dog car seats we have discovered. We have done some thorough research and testing to make sure we are posting only the best dog seats for a range of your requirements.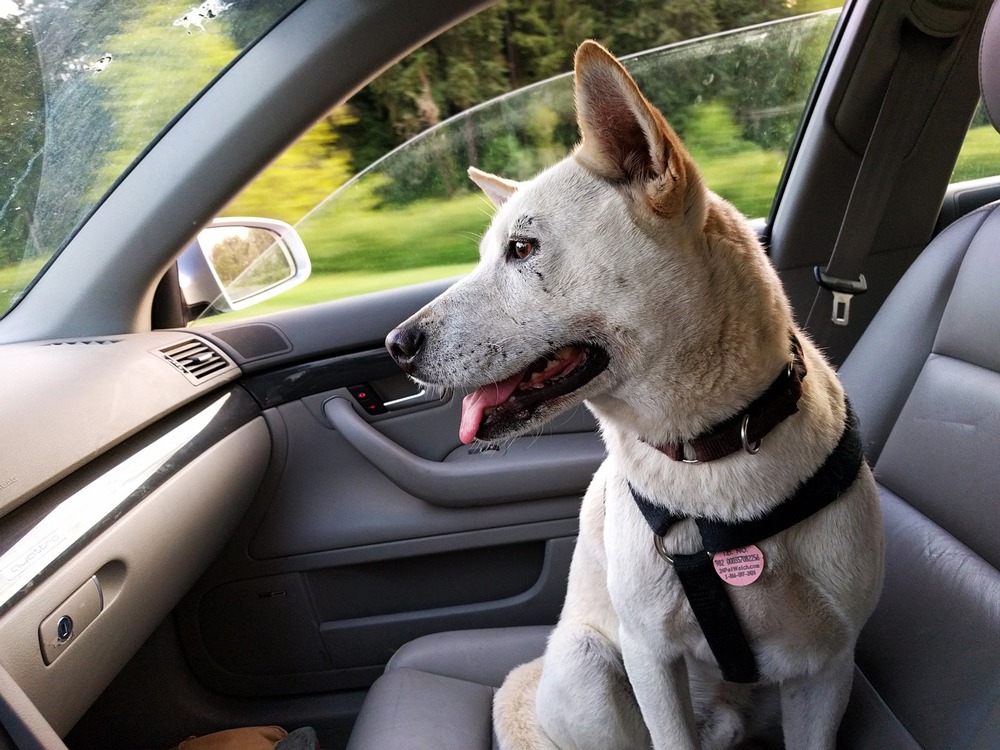 Is it illegal to have a dog in the front seat of a car?
Any dog traveling in a car in the UK has to be "restrained" either behind bars in the boot / back seat or wear a harness fixed to a seat belt. However, many will not be aware that if you caught travelling with your pooch not properly secured then you could be at risk of a £2500 fine.
Dog car seats may not be a legal requirement, but you should seriously consider one if you want your dog to be comfortable and not distracting to you during your car journeys.
Are dog car seats safe?
A dog booster seat is used for two purposes. First, it gives your pooch a safe place to ride during car trips. They're 100% safer than leaving your dog unattended in the car. This is because they're secured with a seat belt and the dog is strapped to the dog car seat itself.
Do dog car seats work?
Dog car seats tend to work best for small dogs, typically under 30 pounds. However, while these attach to the car, many of them don't include a way to secure your dog. The recommended ones have a dog car harness built in or a way to tether the dog by the car seatbelt.
What are the best dog car seats?
You're not asking a simple question here! Not to worry, we have some of the best dog car seats listed below for a range of different requirements dog owners tend to have. We have included the Amazon
links so you can easily locate them.
1) 2 in 1 Pet Dog Car Waterproof Single Front Seat

This sensibly priced dog car seat has some glowing reviews and looking at the specifications, it should do the job and then some. The material is 900D oxford quilted fabrics, waterproof material providing your dog (and you) with some comfort during car journeys.
This is a wise purchase if you're looking to protect your car from pet hair and mud. The seat also features an adjustable strap to fix on the seat which is easily removable.
2) Pet Car Booster Seat
If a minimal price is one of your requirements look no further. Coming in at approximately £12 this dog car seat will definitely be a bang for your buck due to its waterproof 600D oxford material.
The dog car seat also features a zippered front compartment which makes for a convenient place to store treats or toys and a padded seating area provides a comfortable ride. The car seat is easy to install and features the adjustable straps (although we should be expecting this by now).
3) Minve Pet Car Seat
This dog car seat is made from polyester crude fibre oxford cloth and comes in a range of colours. It features a Net Yarn Design: Tulle design on both sides providing good ventilation, especially in summer.
This dog car seat is water resistant and non-slip providing touch security for your dog. A safety seat belt protector is included to prevent your dog distracting you when they get too excited.
4) AHUKU Dog Car Seat
An interesting feature of this dog car seat is there anti-collapse sides. The strong padded sides are reinforced to prevent them from collapsing if your dog or puppy attempts to climb out of the dog car seat.
This dog car seat is more for small-medium sized dogs. The dimensions of the pet car seat enclosure are 45cm x 45cm and the sides are 22cm tall. It is a fantastic alternative to a dog car carrier and has an anti-slip mesh bottom.
5) FRISTONE Dog Car Seat
As the price tells you, this is a more luxury dog car seat. There are various colours to choose from (we recommend red & white) and the material is waterproof high strength oxford which is wear (and scratch) resistant.
As well as being easy to install, the dog car seat comes with a removable seat cushion made with PP cotton. If you're concerned about sizing it measures in at: 55 x 50x 30 cm /21.6 x 19.7 x 11.8 inches. It can easily accommodate small, medium-sized dogs under 16 kg, such as Pomeranian, Dachshund, Mini Poodle, Pug and Cage.
Can dogs travel in the footwell of the car?
If your dog MUST travel with you in the front foot well of a vehicle, do not disengage the passenger airbag and ensure the dog is lying down at all times and is not distracting the driver. However, leaving your dog here is not only risky, but also not as pleasant for them.
How do you travel in a car with a dog?
We have outlined some general advice for travelling in a car with a dog:
Don't allow your pet to ride with its head hanging out of the window, as it's potentially dangerous and can cause injury. Keep them suitably restrained.
Always carry a large water bottle (5 litres minimum) in case your pet overheats and needs to be rapidly cooled in an emergency.
Use sun shades on the windows when it is hot or the sun is bright and never leave a pet in a hot car.
Don't feed your pet within two hours of starting a long car journey to avoid carsickness.
Pack a favourite toy or blanket to give your pet a sense of familiarity. This also distracts them from potentially distracting you!
Conclusion
So, to avoid paying a hefty fine for not having your dog strapped in properly in your car and to ensure your dog is comfortable during car journeys you should consider purchasing a dog car seat for them. The ones listed above are our favourite after some testing and research. We hope you enjoy your dog not getting your car seat dirty anymore!