As soon as the weather changes, we dog owners get quite excited at the prospect of long summer walks with our furry friends. And now that the good weather's in full swing, we're well into dog walking season.
Once you've we've out local parks and trails, however, we start looking for places a little further afield for our weekend wanders, and a trip to the beach is an afternoon well spent.
What could be better than packing up the car, pup in tow, and heading off for a couple of hours by the seaside?
If you're planning a day trip to the beach, here are our top tips to have the most fun and stay safe:
Choose The Right Beach
Before you even start to pack your bags, make sure you know where you're headed.
From May – September, there is a partial ban of dogs on beaches across the UK, with a maximum fine of £75 in place.
Beaches are ranked in three tiers, with some implementing a complete ban, and others allowing dogs between certain times. It's therefore vital that you check the beach that you're planning to visit to ensure that you don't end up with a nasty fine.

Train Your Dog
Running through the waves and splashing in the sea with your dog is great in theory, but safety should always come first.
Before heading to the beach, you need to make sure that your dog is comfortable near water and has basic swimming skills. Not that you're going to be heading too far out with them, but if something happens you need to be sure that they're equipped to cope.
Start by introducing them to water in the bath, or take them to an outdoor pond and practice with them. Remember, you're not training them for the Olympics, you just want to make sure that they're comfortable and safe.
Find The Right Spot
As short lived as the Great British summer often is, it also gets incredibly hot, and it's important that you choose a suitable sport if you're out in the sun for any period of time.
You'll want to make sure you have some sort of constant shade, so it might be a good idea to take a windbreak or parasol with you. That way, you can move them around along with the sun, ensuring that you always have some form of shade.
If you have a particularly active dog, it might be wise to choose a less crowded area of the beach. As we say, the beach bans are usually enforced on more popular beaches, so it's likely that you won't struggle too much with crowds.
Beaches are often rife with picnics in the summer, so you might want to check out our guide to the best dog friendly picnics for a few tips on how to keep your pup distracted.
Check For Hazards
Before you settle down for the afternoon, you'll want to give the area a quick once over and make sure that there are no hidden hazards buried in the sand.
The further into summer it gets, the more our beaches become contaminated with rocks, glass, hooks, coral and garbage, which can pose threats to both ourselves and our pets. It's essential, therefore, that you sift through the sand and check there's no major danger.
It's a good idea to take blankets with you for you and your dog to lay on. Not only will it keep you largely sand-free, it'll also help to protect you from any unexpected dangers.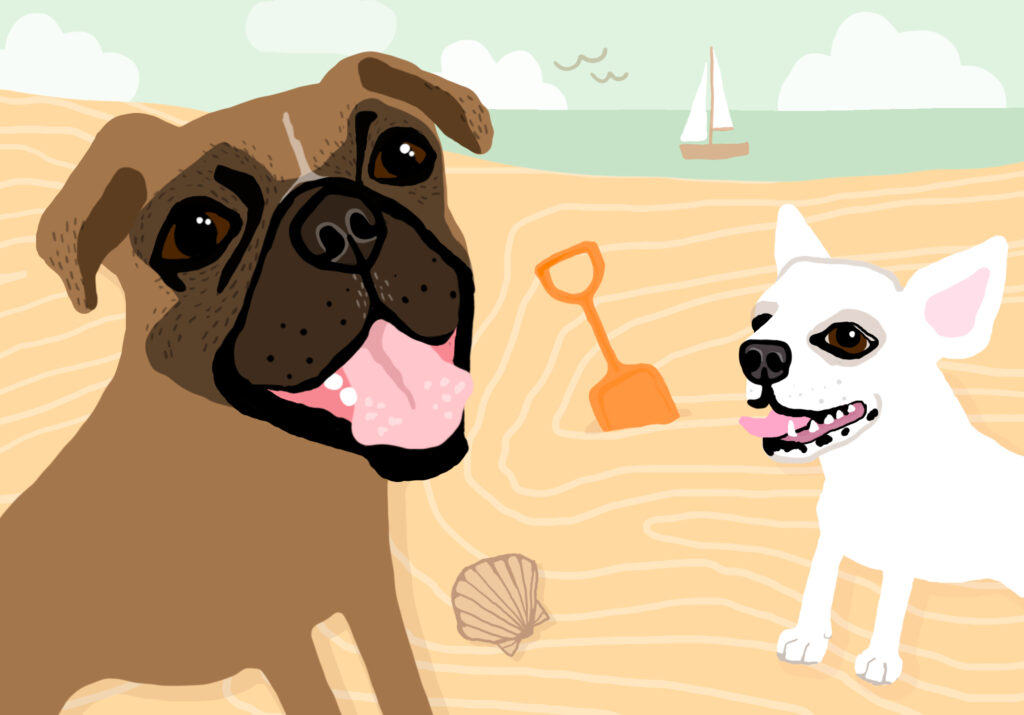 Keep Them Hydrated
Just like we drink twice as much in the summer months, it's vital that your dog stays hydrated too.
As tempted as they'll be to drink water from the sea, however, it's important that you discourage this. Dogs will be attracted to the salty flavour of sea water, but it's actually not that good for them – and who know what else is in there.
Just like any journey in the summer, take a bowl and some water with you. That way, you'll be able to keep their bowl topped up, ensuring that they always have something to drink. If you do run out of water, most cafes and pubs will be happy to top you up.
Although its not the best thing for them, you shouldn't worry too much if your dog drinks some water. Just keep it to a minimum, that's all. And don't go giving them ice cream to keep cool – that's a big no no!
Dry And Rinse Them
After running through the sea and frolicking in the sand, your dog will be covered in salt, sand, and who knows what else!
Once you get off the sandy part of the beach, you'll want to rinse and dry your dog thoroughly. So, it's a good idea to hold on to all of your empty water bottles and take an old towel with you.
A quick rinse before you leave will help keep the car in a reasonable state (although we'd strongly recommend that you cover the seats), until you get home and can give them a proper shower.
Trust us, you'll want to – or you'll be finding grit all over your house for the next week…

Summer holiday booked but still looking for pet care? Perhaps Tailster can help! We've a range of fully vetted carers across the UK, available to tend to your pet care needs as and when you require. For more information on our full service, click here.