Scrumbles is all about that good gut life and natural ingredients in their pet food.
We tested out the Scrumbles range of food and treats on the office dogs to see what they thought of it…
Want to know who won our competition? We also have a little discount just for you! Scroll down…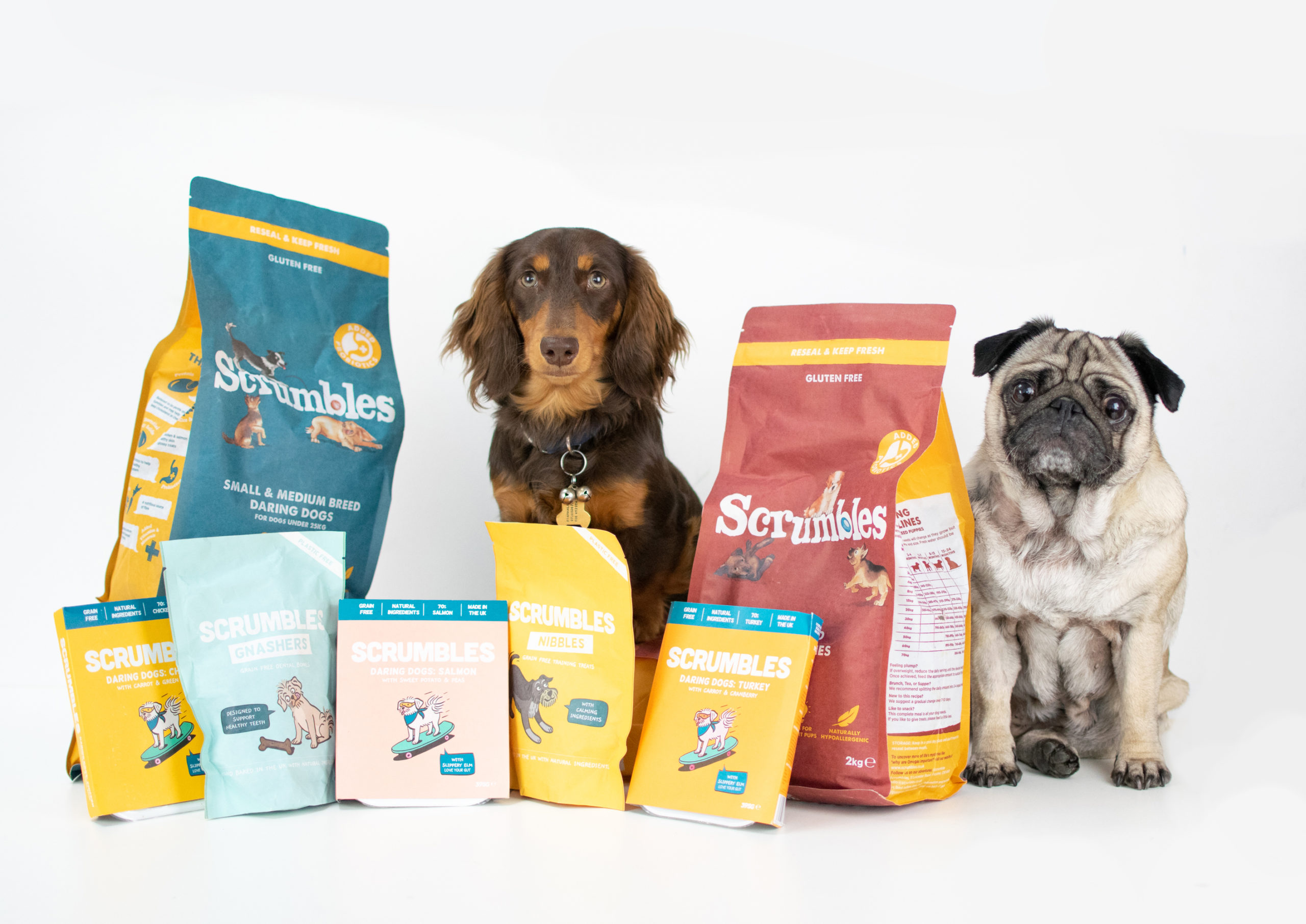 About Scrumbles
Scrumbles is the brain child of Aneisha and Jack, the husband and wife duo behind the brand, with a focus on probiotics, good gut health and healthy poos!
Inspired by Smudge and Boo, the couple's pets, Scrumbles is on a mission to improve pet food, one healthy poo at a time! When they rescued their cat Boo, she was plagued by sensitivities and ended up with a prescribed probiotic paste to calm her stomach and improve her digestion. It worked wonders and triggered a gut happy pet food adventure, that now goes by the name of Scrumbles!
Scrumbles do things differently. Aneisha and Jack studied pet nutrition for a year before launching so they really do know what they're talking about. We also love the fact that Scrumbles is doing their bit for the environment. At least 10% of their profits go towards supporting animal charities, they are in the process of  scrapping all plastic packaging and all deliveries are carbon neutral!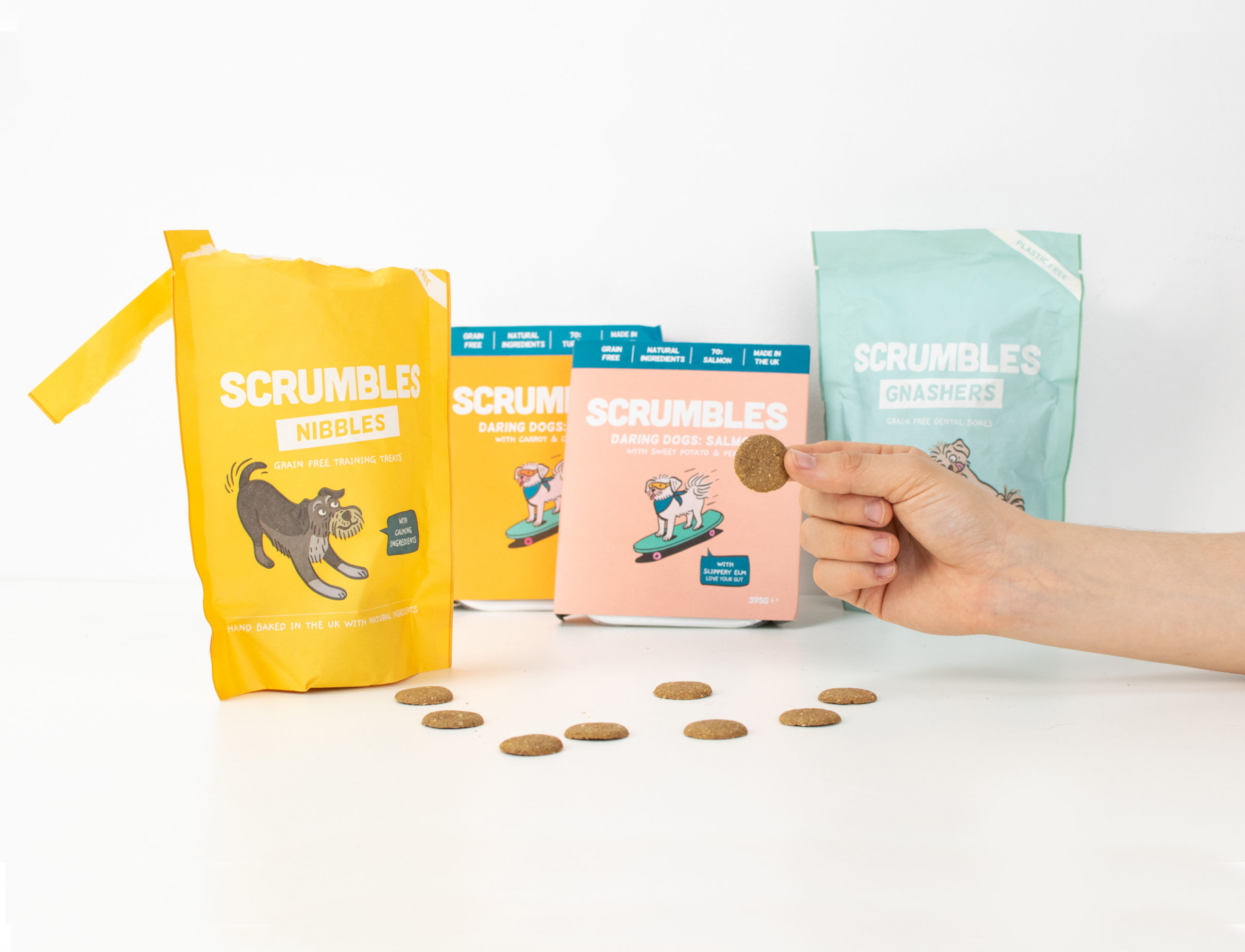 First impressions
Scrumbles was kind enough to send us a selection of dry dog food, wet dog food, treats and dental chews so the gang could give everything a good go!
We tried the Turkey Nibbles first which include calming ingredients…  However, the very mention of 'treats' whip our office dogs into a frenzy so the soothing chamomile and lemon balm didn't have too much of an effect! Despite that, the 100% natural treats (shaped just like giant chocolate buttons!) were a complete hit with Rocket and Wilma and the addition of their tummy tonic "slippery elm" kept their stomachs happy and healthy even after a few too many!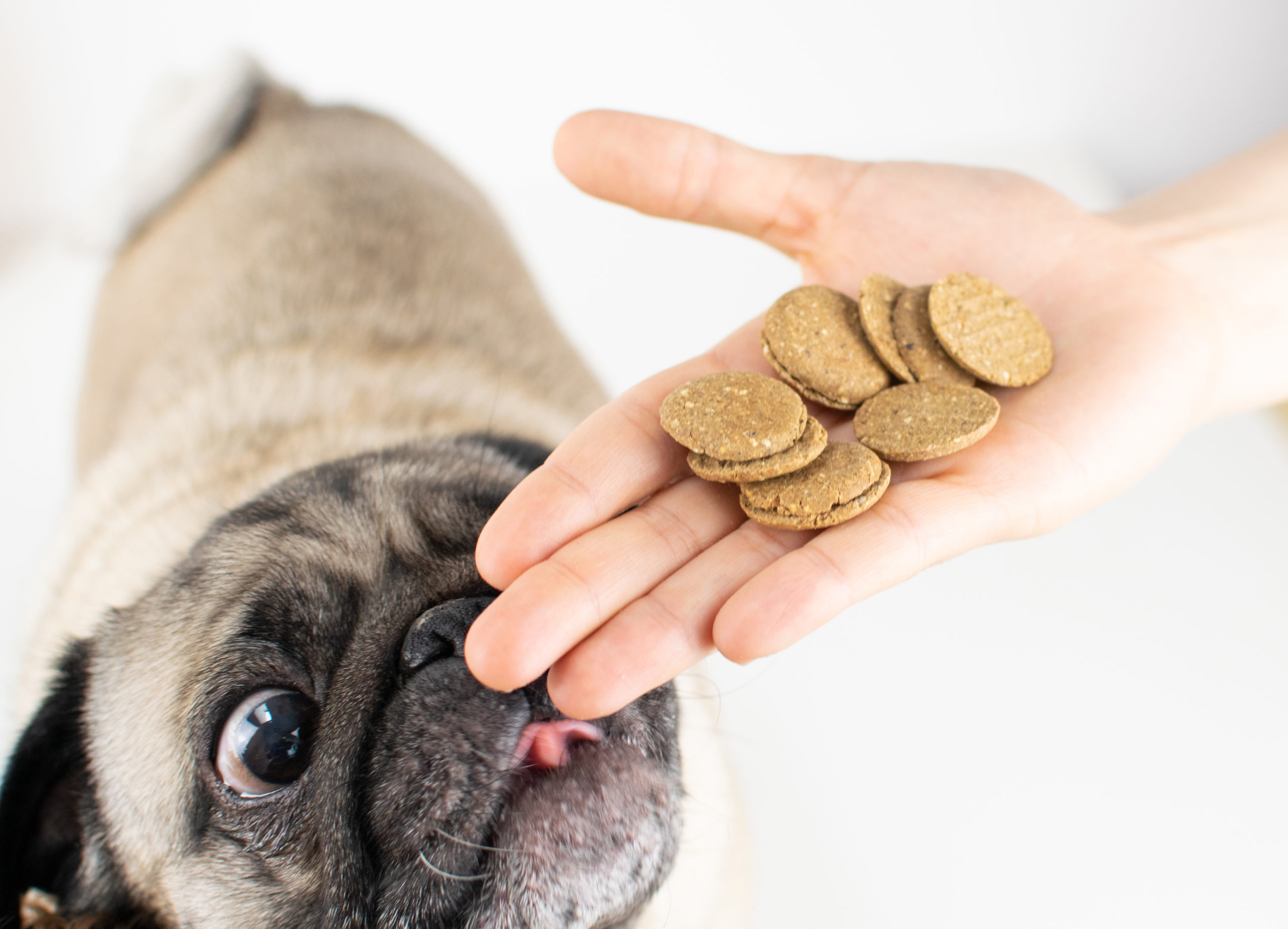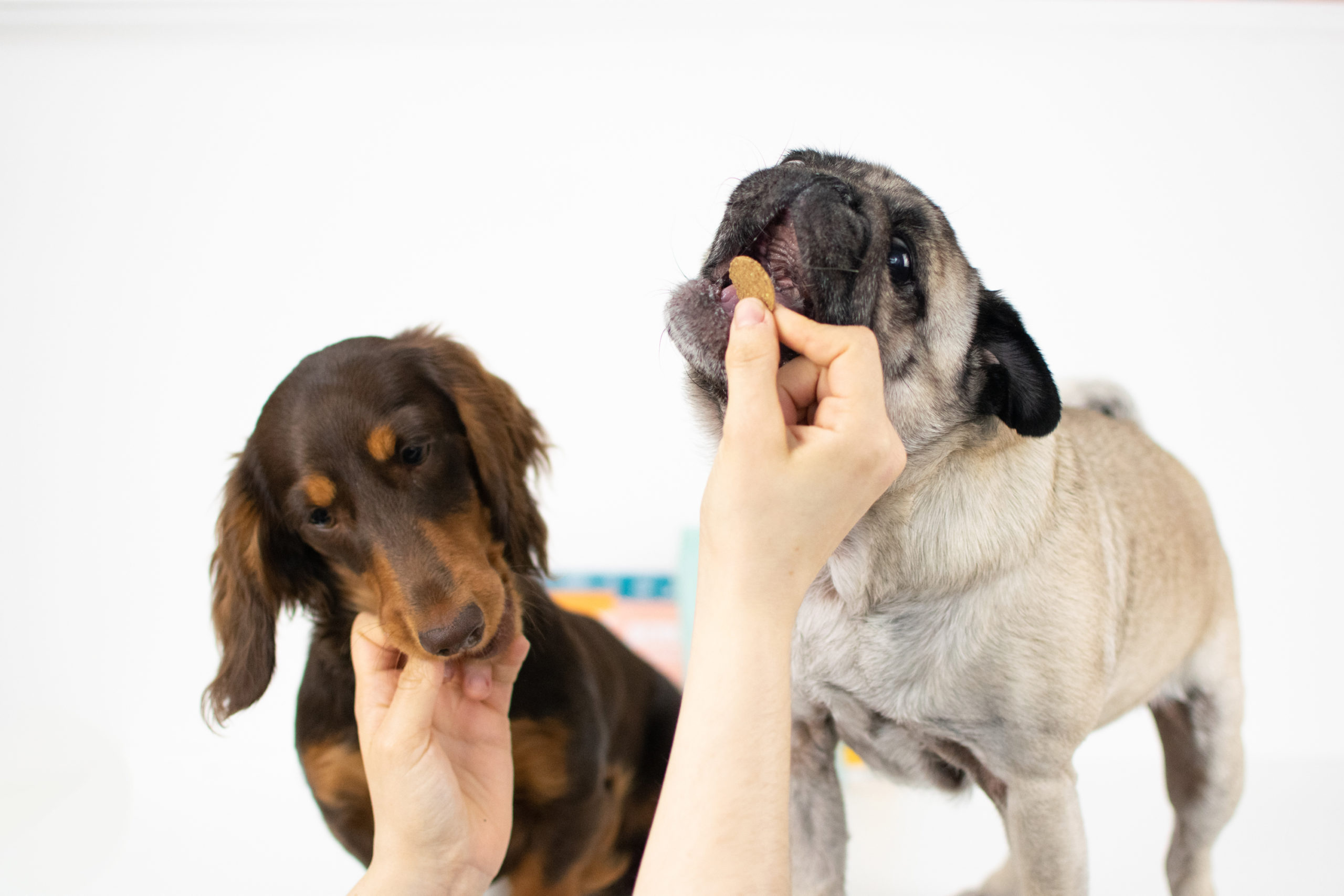 Our resident puppy is our 8 month old Miniature Dachshund, Rocket. We were sent the small/medium breed puppy food made with 64% chicken with extra goodies like DHA from salmon oil to support cognitive & visual development! To view their full range for all different shapes and size, click here.
Next up, Wilma insisted on ripping open the grain free salmon, sweet potato and pea wet food. Salmon is Wilma's absolute favourite, and Scrumbles guarantees 70% fresh salmon in their recipe so it was bound to be a winner for our office pug. Totally dairy, egg and grain free and with no added sugar, salt, artificial flavours, colours and preservatives, this is a high quality wet food you can trust. The wet food comes in chicken and turkey flavours too, check them out here.
Wilma the Pug has just had eleven teeth removed so this was Rocket's time to shine! Scrumbles' Gnasher dental chews pack a crunch to help scrape away plaque. The chews are gently baked with natural ingredients chosen to either benefit the texture or specifically to help teeth such as pumpkin seeds, coconut oil and slippery elm to keep tummies happy!
Congratulations to Ken and Max the dog for winning our Scrumbles giveaway! If you missed out and want to try Scrumbles gut friendly food, just enter tailster20 at the check out for 20% off your first order!