PoochPlay kindly sent us a dog tracker to test out on the office pups. The dog tracker and well-being management app is the world's lightest dog activity monitors (that attaches directly to a collar or harness) and can even provide tailored diet plans.
Psst.. We're offering £20 worth of free pet care when you purchase a PoochPlay tracker from the Tailster Pet Shop…
What is PoochPlay dog tracker?
You can track minute by minute activity time, rest time and the app can recommend how much food (by exact brand!) your dog needs to eat. The tracker is waterproof, the battery lasts for six months and the easy to use app is completely free.
We've been amazed by the detail of information it gathers. We're glued to our phones as we refresh the app to see which dogs have reached their activity goal first!
With PoochPlay, you can find out everything your dog has been up to, from how active they've been, how much they've rested and the app can even remind you of key appointment dates for worming, jabs and microchipping.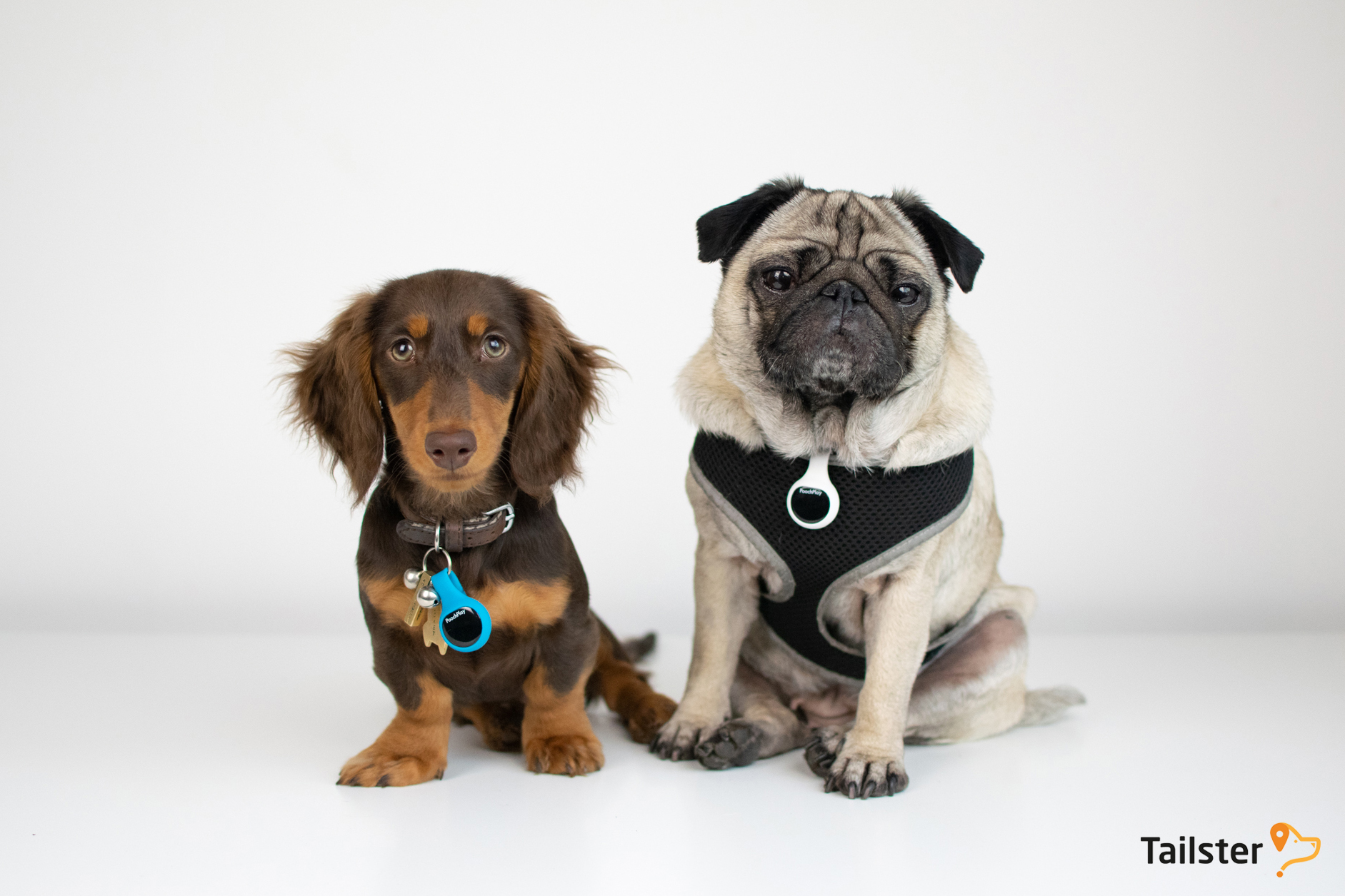 Setting up the app
Once downloaded, you are asked for your dog's breed, age and you pick from some images to help you determine your dog's body condition. The PoochPlay app will then evaluate how much exercise is recommended per day and how much food should be eaten per day down to the exact brand of food. PoochPlay's customer service excels here – if you can't see your brand listed just get in touch with the team and they will have it added for you!
Once you've added all your information, you just need to connect your device via Bluetooth and you're away.
Using the dog tracker
The tracker is only 6 grams and totally water, mud and dog-proof! You can attach it to your dog's collar with the clip or with the more secure watch strap style band. Once attached you can literally see the steps increasing as your dog moves (or doesn't!) and you get a full break down of activity from very active, active and rest. One of our overachieving office dogs has, in fact, had his daily exercise reduced thanks to this information so he gets some more rest!
Using the Personal Assistant
This feature is really useful. You can populate the dates of anything from worming to vaccination appointments to ear cleaning so you get a reminder when the treatment is due. It may – or may not – have highlighted that one of our office dogs is behind on their last teeth cleaning appointment!
Tailster Verdict
This is a fantastic tool to track your dog's activity but it goes above and beyond with the diet plans which adjust according to how much exercise your dog has done that day. You wouldn't want your dog going hungry after a big run! The Personal Assistant element is a godsend due to the fact you can have multiple pets on the app so you'll never get an appointment muddled up again!

Work, family and social commitments mean that there often aren't enough hours in the day to give our pets the attention that they deserve. Click here to find out how Tailster can put you in contact with hundreds of pet carers in your local area, meaning that you can rest in the knowledge that your pets are being well looked after.