The summer months are bliss for UK dog owners, as we can finally get up from the sofa, head out and enjoy the sunshine with our furry friends. And, as the temperatures get hotter and hotter, we start to go further afield, from the good old, nearby park to long, lazy afternoons at the beach.
Before you pack up the car for a day at the seaside, however, beware of this unspoken threat that could potentially harm your pooch.
One family is warning of the dangers of water intoxication, after their dog Max died shortly after ingesting too much water whilst out playing in Lake Windermere. 
Ben Carthy shared the post, which has since been shared over 50k times, as a warning to dog owners against allowing their dogs to swim whilst out on a walk. Explaining the adverse effects that excessive water consumption may have on dogs, he explained:
"[Max] collapsed and was rushed to the nearest vets where he was diagnosed immediately with Water Intoxication and put on drips of sodium, potassium and mannitol to increase his electrolytes and relieve pressure on his brain.
Water Intoxication was something we knew nothing about. At this time of year, so much awareness is spread about not leaving dogs in hot cars but no one ever mentions the hazardous effects of your dog ingesting too much water whilst playing.
We have had to learn the hard way and all we can do now is spread awareness of this terrible condition in the hope that other dog owners are informed."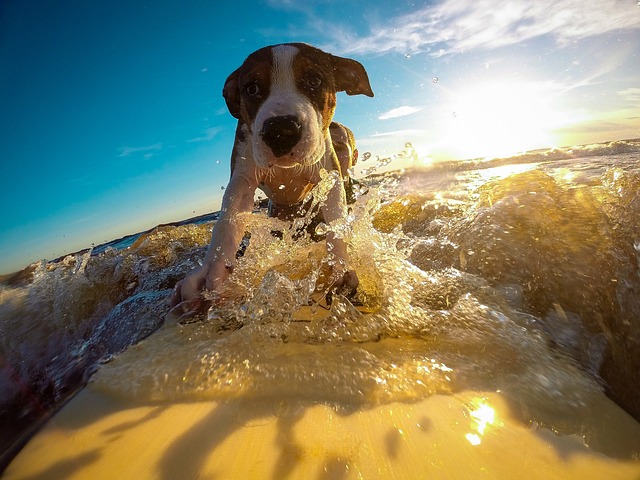 What Is Water Intoxication?
During the summer months especially, we all worry that our dogs are not getting enough water and will become dehydrated. However, it is possible for them to have too much water!
Whilst frolicking in lakes, the sea, or even paddling pools, dogs may inadvertently ingest large volumes of water, which may prove harmful. When dogs take in too much water, the sodium levels outside of the body cells become significantly depleted, leading to a condition known as Hyponatremia.
In order to counter this, the body increases fluid intake inside of the cells, including within the brain. As the brain is encased within a hard skull, this ingestion can cause intracranial pressure, with a potential threat of brain damage.
If you're by the sea, salt water poses an even greater threat as it can lead to Hypernatremia (salt poisoning).
Which Dogs Are Most At Risk?
Although all dogs can be affected by water intoxication, those most at risk include:
Small Dogs:

It takes less time for water to build up as a result of their smaller bodies
Dogs with High Energy: These dogs are more persistent in their tasks, meaning they're likely to ingest more water

Dogs with Less Body Fat:

Fitter dogs are more prone to the condition as there is not much extra fat tissue to absorb the extra fluid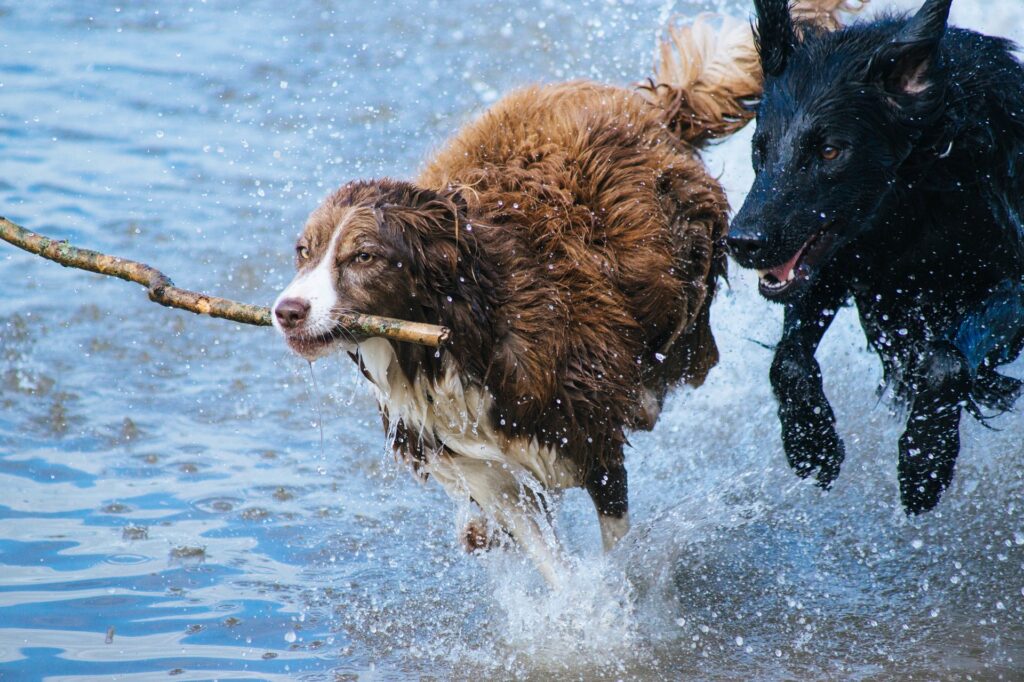 What Are The Symptoms & Is It Treatable?
If your dog has been in the water for a long period of time and displays any of the following symptoms, they may be suffering from water intoxication:
Lethargy
Vomiting
Bloating
Loss of coordination
Restlessness
Pale gums
Drooling excessively
Dilated pupils
The good news, however, is that it is largely treatable. In fact, most dogs will resolve the issue themselves simply by urinating once they are out of the water.
If symptoms persist, we recommend that you seek veterinary attention and advise them that you suspect water intoxication as symptoms can often be misdiagnosed.
How To Prevent Water Intoxication
As we say, most cases of water intoxication are easily resolved and shouldn't be a major cause for concern. If you are particularly concerned, however, here are some simple measures you can take to help prevent the condition:
Monitor Your

Dog:

If your dog particularly likes to play in water, we advise that you keep a close eye on them – and, even better, teach them not to bite

Limit Play Time: 

It may also be a good idea to limit your dog's time in the water, taking regular breaks so that they can go to the toilet and pass any excess water

Find Flat Toys: 

If your dog likes to play with toys in the water, try and find flat objects that mean they'll open their mouth less and subsequently ingest less water
 Summer holiday booked but still looking for pet care? Perhaps Tailster can help! We've a range of fully vetted carers across the UK, available to tend to your pet care needs as and when you require. For more information on our full service, click here.