Tailster dog walker and cat sitter, Jasmin, is one of our most popular pet carers in Bristol. We had a chat with her to find out how she ditched the day job for pet care in Bristol…
Are you looking for pet care in Bristol? Book your carer here.

Hi Jasmin, what do you do?
Heya! I nurture cats and dogs in the comfort of their own homes, all over Bristol and Bath. Their care is shaped around their usual routine – and then I add some fun and flavour on top. I bring new toys or enrichment feeders, and introduce new games or soft-pressure massage. These engaging activities can really get their noses twitching and their tails swishing.
Why did you decide to go into pet care in Bristol?
I love the journey of self improvement. I'm from London, born and bred, and relocated to Bristol to refresh my stagnant perspective. By focusing on happiness as a roadmap to success, I realised I'd been using pet care as a distraction from the stresses of my normal day job. Turning pet care into a full-time commitment only meant that I was turning my happiness to full volume. Why be happy only part-time? It made absolute sense.
What was it about the platform that attracted you?
The look of the brand attracted me to Tailster. I'm an Illustration graduate and so I'll always notice creative individuality. My first impression was – well, this looks fun and fluid! It's absolutely my favourite pet care site. The vetting process is extremely thorough; you wouldn't have a solid platform without real, honest carers. And to add to it, not only is their customer support base always on top of things, Tailster are always trying to educate and encourage carers and owners alike. You couldn't find a more united front in pet care in Bristol!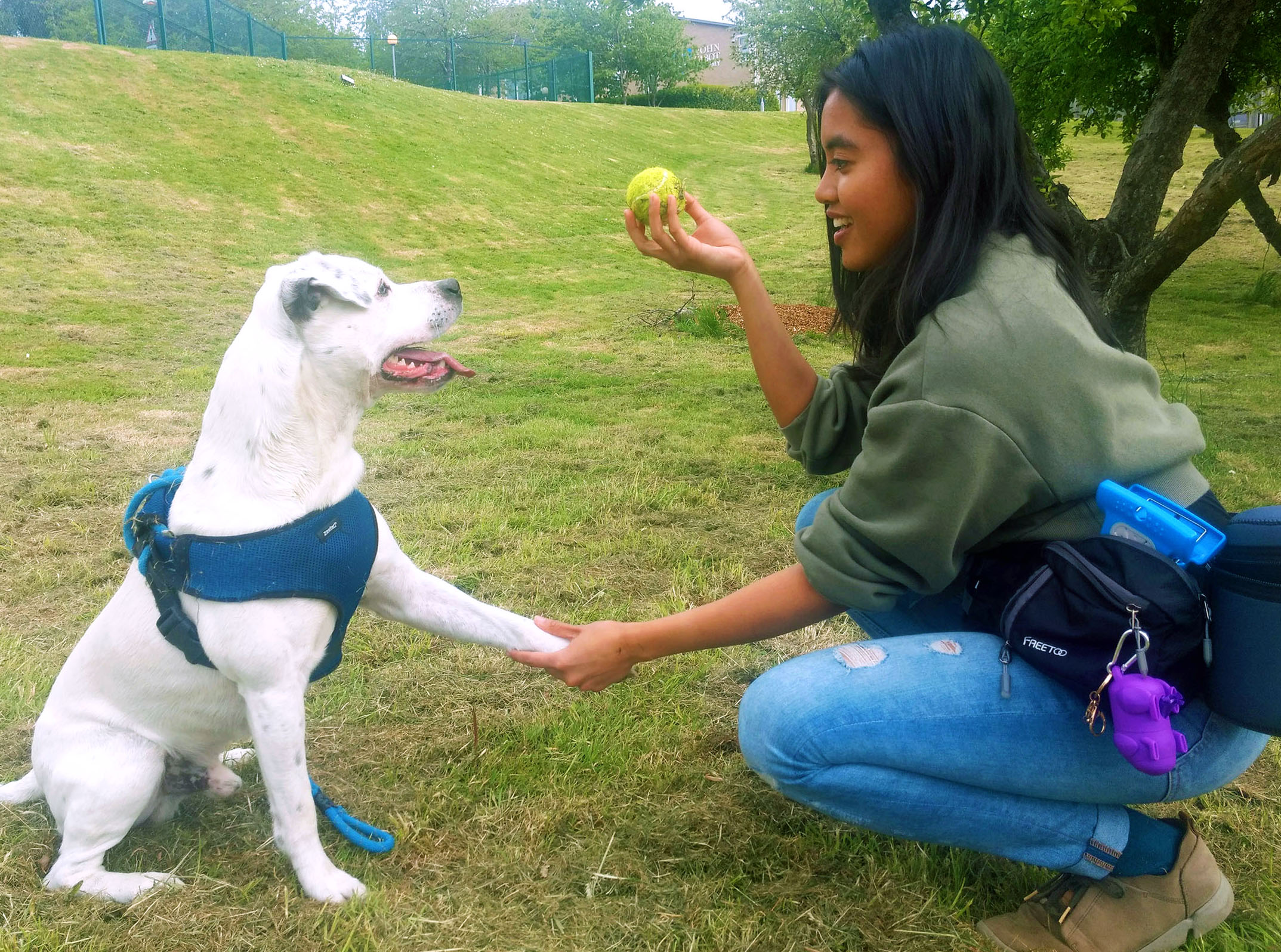 What are your top tips to make it as a pet carer?
Embrace the whole experience. It's not simply about cuddling cute pets – first and foremost, owners will need to trust that you're capable to care for their loved ones, not just out and about, but in their home. It's not an easy thing to do for families to invite strangers into their lives, so if you're thinking of doing this because you get on better with animals than with people, then this isn't the best avenue to go down. Pets are part of a family household, and you need to be able to welcome people as much as the pets. Oh and don't forget – you will literally need to pick up poop!
… what should you avoid doing as a pet carer?
Don't use your previous experiences with others to colour your expectations for a new pet and owner. Pets are just as different as people, so your outlook needs to be a fresh canvas. A 'meet and greet' is a lovely, informal way to see how well you get on with a new client, and it can be great fun. But always stay in control – it's still a business meeting. Confirm your next steps so both parties feel clear and confident about where the enquiry is heading. Also make sure you can commit to your agreed bookings; know your limits! Everyone loves an enthusiastic carer, but you're no help if you can't make a booking because you've overlapped. As long as you're committed, consistent and open-minded, you'll find pet caring to be a very fulfilling career.