Looking for a cat sitter in Northumberland?
Book a Tailster cat sitter for peace of mind when you need a hand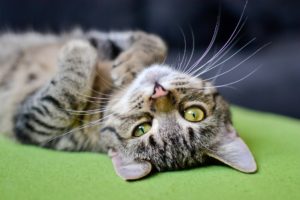 Northumberland is a town full of wonderful pets, and many dog and cat owners choose the town as a place to live. As people with busy lifestyles, cat owners will often require a sitter to look after their cats when they go away.
You've probably stumbled across this page because you are indeed, a cat owner looking for a cat sitter in Northumberland, and we are here to help!
With many cat sitters in Northumberland, it's difficult to find out whether they are available, whether they are insured and more importantly, whether they are the right person to look after your cat. We can find you a sitter to stay at her home while you are away or to just pop in to give your loved one some food and water, clean out the litter tray and give them some cuddles. 
At Tailster, we make this whole process easier – finding you available cat sitters in Northumberland, and at prices that are reasonable too. 
Tailster cat sitters are insured and vetted – we currently only accept 1 in 6 applications, and we offer even more benefits to you as a pet owner as part of our cat sitting service. We're much loved and with over 25,000 pet carers in the UK, we're very keen to have you and your loved one on board.
All you need to do is let us know your cat sitting requirements here, it takes just 30 seconds and we will start finding out which of our cat sitters are available.
With many cat sitters in your area, we feel its very important that you select someone that is right for your cat. We rigorously vet each applicant and carer on Tailster so you are safe in the knowledge that we are here to help. Our Tailster approved cat sitters are dedicated to giving your cat the perfect one-to-one care and attention they deserve. 
Benefits of a Tailster cat sitter –
Real time photo updates – We deliver real time photo updates from your carer straight to your email so you know that your pet is having as much fun as you are whilst you are away. Photo updates include a timestamp and a map to show you where your pet's been. Relax knowing that your cat sitter is with your pet at the times you request and in the right place. Again, this service is all part and parcel of your using Tailster, free of charge for all bookings.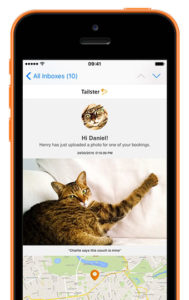 Free insurance – Your cat is important to us which is why when you book through Tailster, you'll automatically be covered by our insurance policy. Our insurance cover includes emergency vet care bills, up to £5m public liability, loss of keys cover plus much more. This insurance is only available when booking through Tailster.
Online payments – we look after your money while the Tailster carer looks after your cat. For cat sitting bookings, leave behind the hassle of leaving cash on the console table or working out how much you owe the sitter when you didn't have cash to hand. We handle it all for you through Tailster – simple and flexible plans cater to all your cat sitting needs.
Customer service – we're here to help. We'll help you find the available sitters when you create a cat sitter request.

When you are ready to book, we are there to hold your hand the whole way making sure that your cat gets the

attention they need. You can call us, email us, live chat us, text us whenever you need or if you need help or have any enquiries regarding payment.
Interested in finding out next steps on finding a cat sitter in Northumberland?
We've got hundreds of cat sitters in Northumberland, we just need to start the search on your behalf for a cat sitter. Get started by clicking here to create a cat sitter request, or click above on the widget to tell us your requirements.
If you are interested in applying to become a cat sitter, you can also do that via Tailster – approvals are rigorous but we'll offer all you need to be able to start taking cat sitting clients.