Debra is one of Tailster's most popular carers. Caring for pets was always a passion of hers, so we got in touch to find out how Tailster helped her make her dream happen…
Hi Debra! What do you do?
My name is Debra and I am a
Tailster
dog walker. My day involves visiting a number of pooches and taking them out for some much needed fun and exercise! I absolutely love what I do, it is the most rewarding job as you get back far more than you put in. I have met some wonderful people as well as some amazing dogs, my client base has grown tremendously and I feel extremely lucky to be doing such a delightful job.
Why did you decide to become a pet carer?
I have a long line of experience working with animals from volunteering in shelters, to pet shops and farms. I have always enjoyed walking dogs and used to just help out friends and family; one day I decided to take it to the next step and start dog walking professionally. I obtained a Dog First Aid Certificate and did some intensive research on working for myself. Since then I have been extremely lucky to become so successful. It was the best decision I have ever made!
What was it about the Tailster platform that attracted you?
I have been using
Tailster
for nearly a year now. I was looking for some kind of platform where I can get bookings and find potential clients. Out of all the apps I tried,
Tailster
was up there as the best one as they make it extremely easy to find local dogs, they have a dog walking tracker so you can show the owner where their pooch went on their adventure and they have a very simple ongoing booking system which made things so easy for both myself and my clients! Furthermore, they provide insurance so you are covered and they are extremely helpful should you have any issues.
What are your top tips to make it as a pet carer?
I would say the main thing would be to get as much experience as possible under your belt before you start professionally. There are so many online courses and lots of shelters where you can volunteer. A degree in Animal Care would set you on the right track, however I have done it without, so it is not essential. There are numerous ways to get yourself the experience you need. Volunteering is one the best forms of education, even just one day a week. Not only do you benefit, but you are supporting an amazing cause!
I would also recommend doing a First Aid Course for pets as it is so important to know what to do in an emergency. Being a qualified pet First Aider can help to put the pet owner at ease so they can have even more trust in you. Once you have the experience you need and you feel confident enough, create a profile on
Tailster
and the work will likely start coming in in no time. The Tailster team are very friendly and helpful, so you can also get some advice from them too.
… what should you avoid doing as a pet carer?
Avoid anything that might put an animal in danger, keep dogs on the lead and always be vigilant. Your priority is the animal's safety, so avoid anything that might be a risk. One thing I have discovered that can be tricky is when you see a dog running loose off the lead and they approach you and your companion. In most cases, owners will know how their dog will be and would only really have them off the lead because they know their dog is friendly. But this is not always the case, as I have discovered first hand. So vigilance is paramount! Always look ahead, are their any dogs loose who look like they might cause problems? If so, don't risk it! Keep your distance and let your dog meet other dogs on leads instead.
Another word of advice: always do everything the pet owner asks. You want the owner to feel comfortable knowing their furry friend is in good hands and trustworthy. Take plenty of pictures and maybe even write a little summary of your day together so they can see how much fun their dog is having!
Do you have any advice for owners to help them find the right pet carer? What should they be asking you?
Some important questions to ask a potential pet carer would be:
1. How much experience do you have with pets?
You want them to really understand the animal, so a good three years experience would be sufficient. 
2. What would you do if my pet was injured?
In an emergency you want to make sure the carer has a plan should things go wrong. So they should ask you for your pets vet details and an emergency contact. What would be great is if the carer tells you what they do to prevent such emergencies as well. Prevention is key!
3. Do you let dogs off the lead?
In a nutshell, they really shouldn't for safety reasons. Hopefully they have the right equipment to make sure your pet gets the exercise they need.
Any other questions would be down to specific requirements for your pet. If they have any kind of fears, behaviour issues or medical conditions, you want to make sure the carer will be experienced enough to handle them. Consider asking them if they have worked with the same breed as your dog before, as each breed can have different characteristics.
And finally, not a question as such, but you want to get a nice warm friendly feeling from the carer, feel their professionalism and have absolute trust in them. How are they with your pet? How do they introduce themselves? The way they come across will tell you a lot about how they will be with your beloved companion.
Do you have any memorable moments you have whilst working as a pet carer?
I recall a time when I was walking two puppies. One was a big goldendoodle called Lola, the other a small cockapoo named Gizmo. It was the first time I was walking them together to see how they got on. Lola was older so I thought maybe she could teach Gizmo a thing or two. Gizmo took quite a shine to Lola and got rather overexcited. His craziness definitely rubbed off onto Lola which started her off…
Next thing I knew, I was in a heap on the grass with the two of them, with onlookers laughing at the site of me tangled up in these two crazy puppies. Instead of Lola teaching Gizmo, Gizmo corrupted Lola back into her younger mischievous self! It is safe to say they definitely got on well but walking them together was quite the challenge!
Word of advice for new dog walkers, I wouldn't walk two puppies together until they have calmed down a bit, but if you decide to give it a go, good luck!
(On a serious note, safety wise, do be careful when it comes to dog leads tangling, it might not seem so bad, but it can cause a lot of issues which is why I have invested in non tangle coupler and trio leads!)
Where are your favourite dog-walking spots?
I absolutely love walking dogs along the Thames side in Royal Wharf. The views are beautiful and most importantly, the dogs love it! We bump into lots of other little poochies along the way and everyone is so friendly. Thames Barrier Park is also a wonderful haven for dogs, it's very picturesque!
What do you pack, or how do you prepare, for a dog walk?
Here is my essentials list for Dog Walking:
• Poo bags
• Treats
• Tissues
• Wet wipes
• Water Bottle
• Collapsible dog bowl
• Phone
• Power bank (I never let my battery run out)
• Spare leads/collars
• Dog First Aid kit
I have a dog walking bag and pouch and a small backpack which everything fits in nicely. Its important to always be prepared for all circumstances!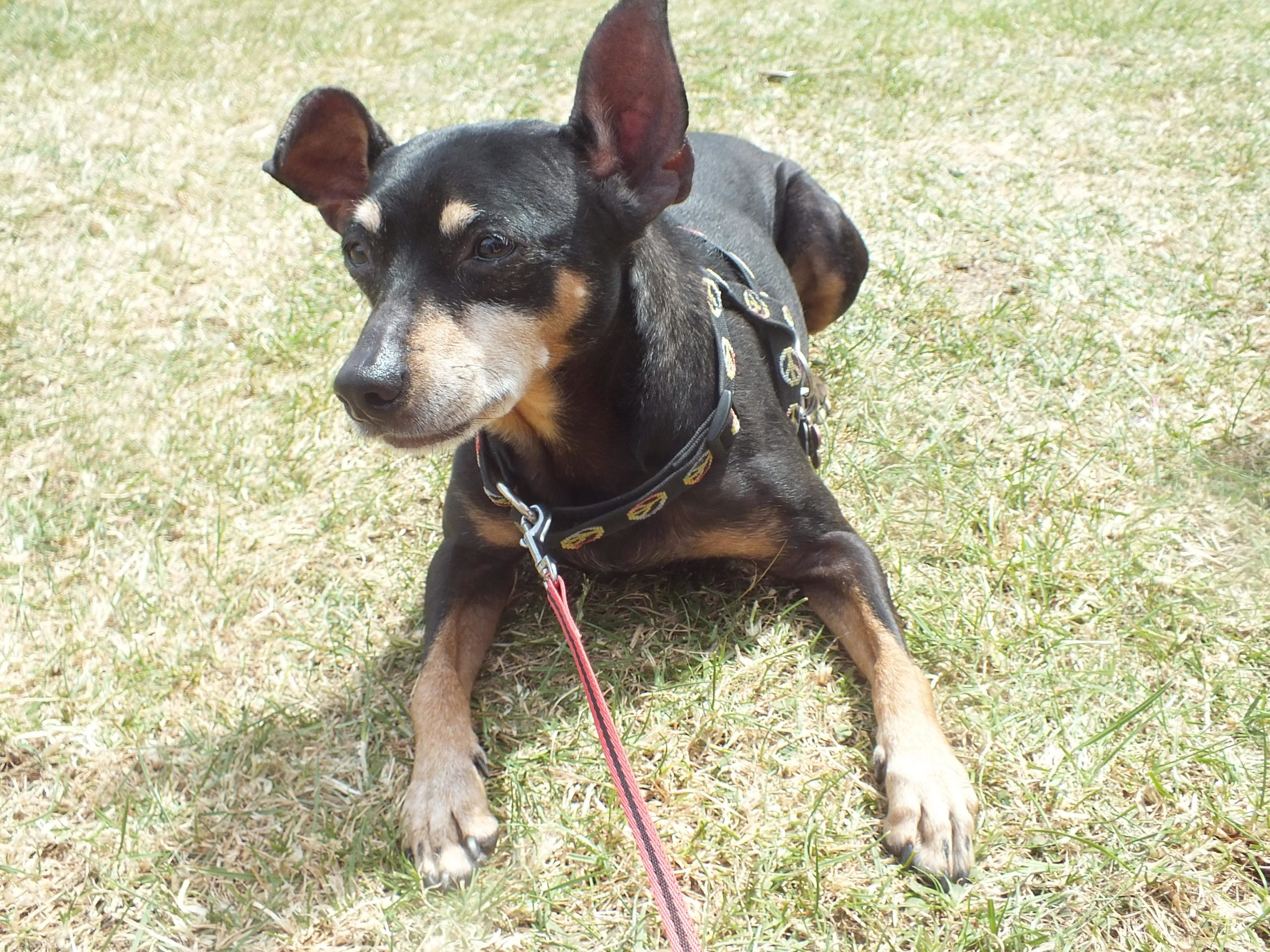 Do you have any of your own pets? Could you tell us their story?
I have a Crested Gecko named Vince! He is 5 years old and is a little sweetie, he looks a bit like a tiny dragon! His favourite meal is small locusts, but he does love a bit of juicy fruit too. I don't own any dogs myself at the moment, I enjoy spending time with dogs and other animals, but I much prefer to dedicate all my time to the ones I work with.
Is there anything else you would like the Tailster readers to know?
If you are looking to become a carer, just remember life is short, so do what makes you happy! Becoming a pet carer has been the most amazing thing I have ever done, and it is so easy to do once you put your mind to it. I think the most important thing you need for a job like this is the love and compassion for animals. If you have empathy for them and care a great deal, you are already one step ahead!