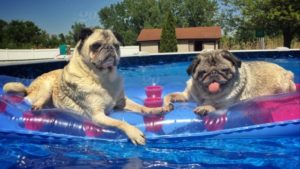 Although last week's heatwave was short-lived, temperatures have fallen only so they can rise again. Tell your winter jacket that summer is on its way—really! But while summertime temperatures mean we can bust out the cool outfits to enjoy fair-weather festivities and lunches on the lawn, heat can be hazardous for our pets. This is especially true if you plan to take your best pal with you on your summer holiday.
Whether you'll be enjoying a staycation or jet-setting to tropical climes, don't let 'get a better beach body' be the only thing on your list of travel-season preparations. Keep these tips in mind to make sure your pet stays safe and enjoys your summertime ramblings, too!
Hydrate, Hydrate, Hydrate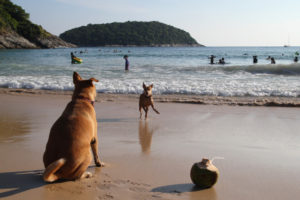 No, this isn't your inner bodybuilder coaching you on the fundamentals of a great leg day sesh. This is a reminder that hydration is key to preventing all sorts of problems for your pet, especially during summertime travel. Give your pet plenty of water before and after your trip, and make sure she has lots of water on the way, too.
If you're going by ground, have a few water bottles and a dish handy. Schedule plenty of pit stops and walkies to let your pet stretch her legs and have a drink. Taking your pet by plane? Ensure she has enough water by attaching water bowls to the crate. Pro-tip: fill the bowls and pop them in the freezer the night before travel—this makes the water last longer and prevents spills, and gives your pet something to occupy herself on the journey!
To Groom or Not to Groom?
That is the question, and the answer depends on your pet's hair type. You might sweat just to look at it, but for most dogs (cats too!) that fluffy coat acts as their own personal cooling device. That's right: the same coat that insulates your pet against cold in winter prevents overheating in summer. And it can protect your pet's skin against sunburn and skin cancer, too.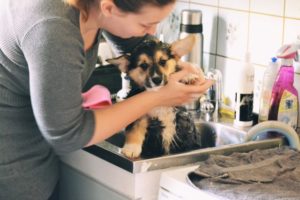 This isn't to say you can't cut your pet's hair to make it a bit more manageable for the beach. If you can't resist giving your friend a buzz with the clippers before a summer trip, it's best to let a professional groomer take care of the summertime 'do.
Hit the Snooze Button
My dog loves going on family trips, but her excitement is tempered by a whole lot of pre-travel anxiety. She can't help but think I'm abandoning her forever when I pack my purple rucksack, only to be caught up in throes of elation when she realises she's coming with me.
I solve this Jekyll & Hyde reaction to travel by taking her for a long jog before I pack up the car. Plenty of exercise—a long walk, run or playtime in the park—before your trip can calm your pet for the journey and help them relax along the way. A tired pet is a happy pet!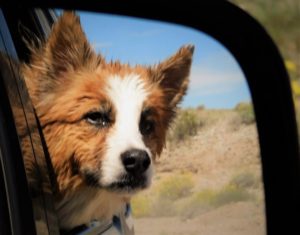 Travel Crates are Great …
… if you know which one to choose. You might think, 'I have a small pet, so I need a small crate,' but this isn't the case, especially in summer months when enclosed spaces can create stuffy situations. For car journeys, you may want your pet to roam free in your vehicle, but a crate can help her feel more secure, especially on twisty roads. Remember that bowl of water you froze last night? This will ensure your pet stays hydrated throughout your trip and gives her something to do to beat boredom on your trip (if she doesn't snooze the whole way). 
In either case, you'll need a crate that's well ventilated and large enough to allow your pet to stand and turn comfortably. You may even want to get a larger crate than you need to ensure your pet has plenty of air and freedom to move.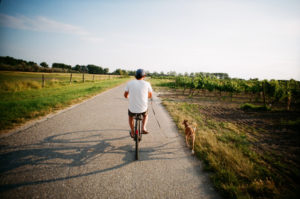 There's no doubt that your faithful friend would walk to the ends of the earth with you—so make sure you're prepared with everything she needs for a happy, healthy journey!