It's International Dog Day and of course, we are celebrating at Tailster HQ! It's one of the best days of the year by far, so what have you got planned? We thought we'd give you some tips on how to spend your day celebrating all things dog.
1. Throw a party, for all the dogs in your life.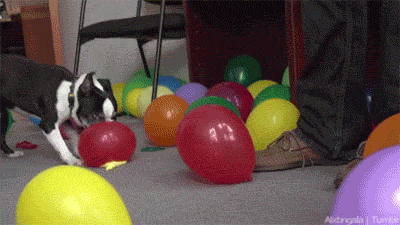 We totally recommend throwing a dog party, invite your friends and their pups round. Celebrate it in style by making some dog treats (we have a quick recipe below!). Get some dog toys, balloons and treats and you're ready to go. If you're feeling extra fancy grab some dog beers too!
2. Donate to an animal charity
Today is not just about celebrating but remembering that our best friend's still need some help. Donate to the RSPCA, Dog's Trust or other animal charity. It's time to remember those dogs who don't have it as amazing as ours. Any amount, big or small would help them keep doing the vital work they do.
3. Make some treats for your dog (or for that party) 
This easy none bake recipe will definitely get the party started.
Peanut butter cookies
What you'll need:
380g of Rolled Oats
128g of Sweet Potato or Pumpkin (puree will work too).
60g of Peanut Butter
A Splash of coconut milk or water
Set aside around 70g of the oats for later use. Put the potato (or pumpkin), oats and peanut butter into a bowl. You can do this with a fork or a mixer, you want the dough to be firm if the dough is a bit crumbly add the water or coconut milk until its firm. The dough should not stick to your hands.
Make small balls and roll them in the remaining oats.
Freeze for a couple of hours – and you're all set!
4. Send us pictures of your dog party, or just spam us with pics of dogs!
We LOVE seeing pictures of dogs. They make our day – we'd love to see what you planned, if you made the treat above or threw a party. Simply, post your pictures to our Facebook wall (www.fb.com/tailstercom) or send them to us by email info@tailster.com – we might even send you a little surprise through the post.
We'd like to wish everyone a happy National Dog Day! 
---
And if you need any help finding a loving pet care for your pet, you make a request below. It's free and it only takes 30 seconds – let's see who we can find for you.