Throughout the month of June, the RSPCA is challenging animal lovers and dog walkers to get involved in their My Big Walkies campaign to raise funds for the charity.
In the lead up to summer, the campaign aims to get dogs and their owners active by completing their 10,000 daily steps together. 10,000 steps is widely recognised as the minimum daily recommended step count for humans, and walkers can sign up to the challenge either with or without their furry friends.
The My Big Walkies campaign will raise funds to help the RSPCA continue to rescue animals suffering from cruelty and neglect. It also promotes a healthy lifestyle for both you and your pet. Plus, 10,000 steps is equivalent to five miles or 100 minutes, so it's the perfect excuse to spend a couple of hours alone your pet – need we say more?!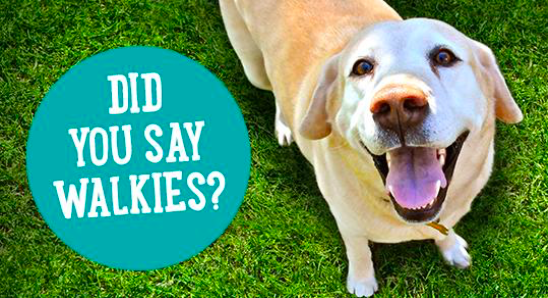 Dr Samantha Gaines, the RSPCA's dog welfare expert, said:
"Lots of us know how much our dogs love their walkies. Walking and playing with your dog is a great opportunity to form a strong bond with your pet as well as keeping you both fit and active, and raising money for some less fortunate furry friends.
"My Big Walkies is a big challenge – 10,000 steps is about five miles a day – so some dogs will relish the chance to get out for some extra long walks. However, those with less active dogs due to age or health, for example, have the perfect excuse to do fewer steps."
If you want to push yourself and your pooch, or if you're an avid walker who wants to do a little something for charity, you can sign up to take part in the My Big Walkies campaign here.
Be sure to share your My Big Walkies selfies on Twitter and Instagram. Make sure you tag @Tailstercom and include the hashtag #MyBigWalkies!