We are a nation of pet lovers, because of this it is easy to note the saturation of dog toys on the market. In fact, today dog toys tend to be extremely affordable. However playful dogs can quickly get through a new toy, and whether it is for a gift, or just as a personal token of appreciation to give to your dog, making a DIY Dog toy yourself can be that little bit more cost effective and sentimental.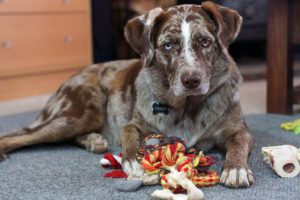 As is with any toy, think of your pup's safety first. Supervise your dog when they're playing with all toys and regularly inspect them for damage. Be sure to get rid of any dog toys that are falling apart– you don't want your four-legged love to swallow or choke on anything harmful!
Here are a few DIY dog toy ideas:
DIY dog toy #1 The Sock "Puppet"
What you'll need:
An unwanted bottle

An old sock
We all have old water or fizzy drink bottles laying around – choose one to use as your toy

Get an old sock and pull it over the bottle

Tie a knot with the excess fabric
This toy may be better for smaller breeds as it is not that durable and bigger breeds could chew it up pretty quickly! Although the bottles are easily replaced and can later be rinsed and still recycled.
DIY dog toy #2 The Tennis ball puzzle
What you'll need:
A tennis ball

Some small kibble/treats
Take a tennis ball

Using a sharp knife carefully cut the ball down the seam

OR make the cut in a cross shape to help the dog release the treats more easily

Squeeze the ball to create an opening

Fill the ball with your dogs favourite treats/kibble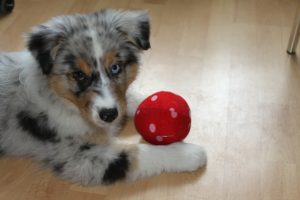 This toy is a great brain game for your dog! once they get the hang of dropping the ball to release the food or rolling it, it can keep them entertained for ages. This is also a great idea for feeding fast eaters their kibble for breakfast or dinner and also wears your pup out!
DIY dog toy 3 # The Rope "tuggy"
What you'll need:
Source a heavy rope ensuring it is not made from any nylon polymer – these can be found at local DIY stores or online.

Tie large but tight knots at each end of the rope – voila!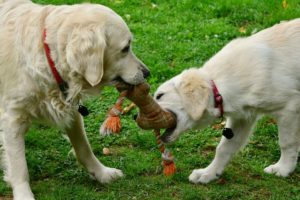 DIY dog toy 4 # The T-shirt "tuggy"
What you'll need:
Get an old t-shirt you no longer use

Cut the t-shirt into thick strips

Tie all the strips together at one end

Divide the tied up strips into thirds and create a braid

Tie and secure at the end
These type of dog toys can not only be comforting for your dog as it smell's of you but is also great for a game of tug of war – a little more easily made than the rope toy with items you have laying around the house. Cheap t-shirts could also be sourced from your local charity shop.
---