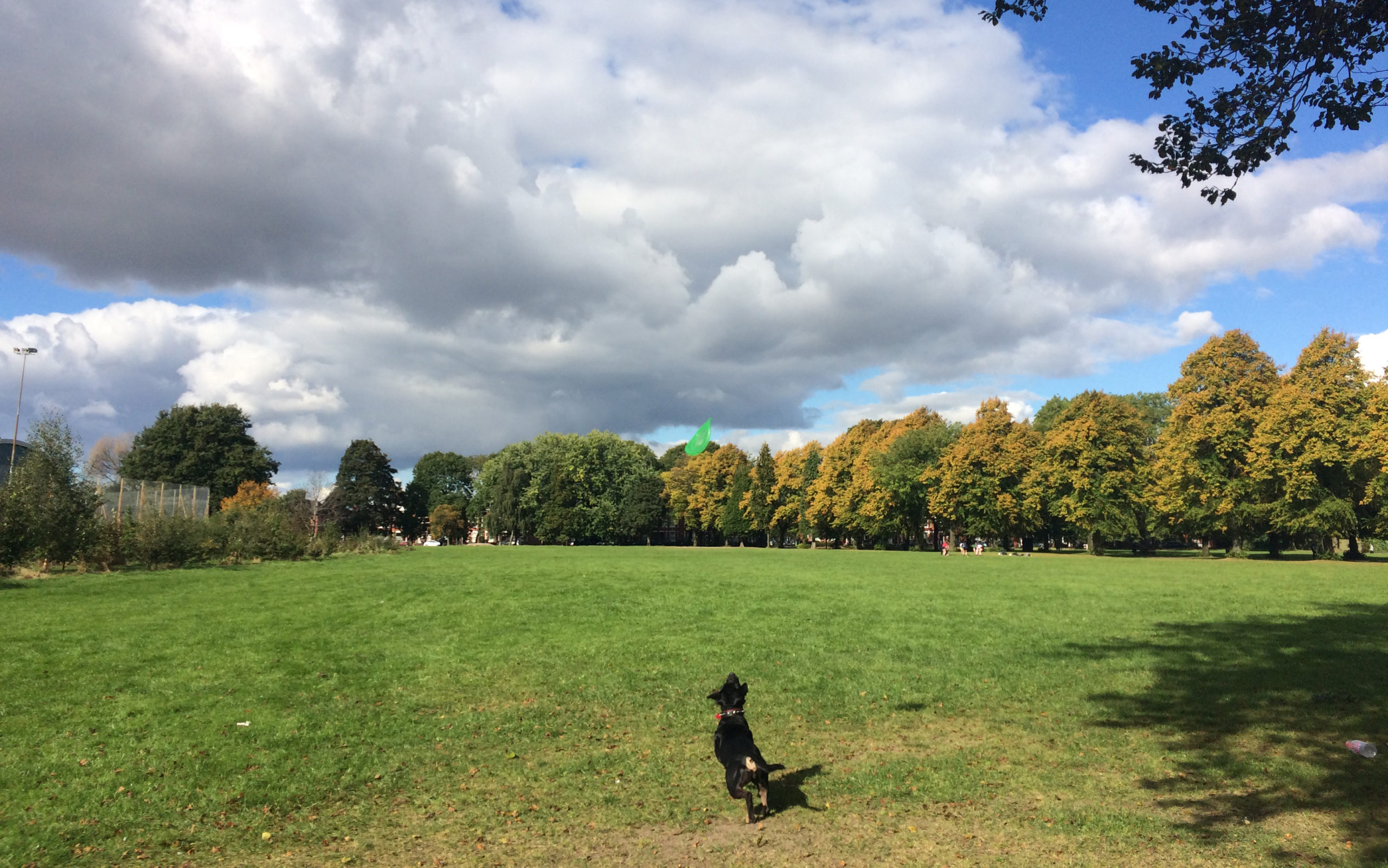 6am
My alarm goes off and it's time to get up! No week is ever the same for me since some of my owners work to a rota, but today is a Tuesday so I'll be walking Lilly, Roxie and Chester. The temperature has really dropped, winter is definitely coming so I wrap up warm and head downstairs.
Every day I walk my own dog, Lizzy, first. I take her to our usual spot in Withington, Ladybarn Park, where she can embark on her daily squirrel hunt. Once she's suitably exhausted from weaving through the trees, we head home for breakfast.
10.30am
After breakfast at around 10.30am, it's time for me to cycle over to Lilly's house. She's a very sweet Miniature Dachshund who loves nothing more than sleep and can often take a bit of encouragement to leave her warm spot on the sofa! She does enjoy a good stroll around Fog Lane Park though, which is one of my favourites in Manchester. It has some great features including a wild flower garden, a duck pond and some secret woods. I've been told that there are parrots living in the trees by the pond, although I'm yet to see them myself!
On to Levenshulme next, and I can spot Chester the Golden Retriever staring expectantly out the window as I cycle towards his house. He's a popular dog with many admirers stopping to stroke him as we make our way to Birchfields Park. It's a big park with vast fields and woodland. It's also the most quiet park I know in Manchester, which can be nice.
1pm
Finally, around 1pm it's just a short bike ride to Roxie's house. She's a Staffie/Rottweiler cross who loves to greet me with a gift when I arrive, often this will be a shoe or the tv remote. I think she just grabs whatever is closest to her at the time! Roxie lives opposite Platt Fields Park which is one of the most popular parks in Manchester, so it's always busy with other people and dogs. I love it most in the summer time when the ice cream van is around. There are loads of different routes you can take, whether you want a long walk or a shorter one, and there's a massive lake with swans and geese and occasionally a heron!
Walking dogs is so rewarding, and I've discovered some amazing parks through these jobs. I hope to discover some more in the future when I can take on more dogs! Thanks to Tailster I've been lucky enough to meet some very special dogs (and lovely owners, too!)