If you haven't heard the term "Canicross" before, you might be a bit confused. Is it something related to crossfit? Well, no!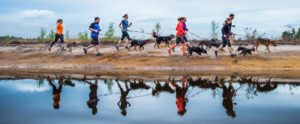 Canicross is part of a group of sports, which include the active participation of dogs. Skijoring, for example, is a skiing sport that has participants attached to dogs, while skiing. Of a similar nature, Bikejoring is biking with four-legged pups pulling away on the bike. Both great activities that keep you and your pet fit, these sports are becoming increasingly popular all over Europe.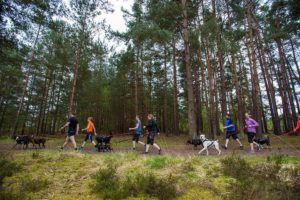 This is an activity for you and your dog where, attached by special equipment, you can both enjoy a good run! First introduced in to the UK in 2000, the activity has an avid community of supporters and a number of events hosted across the country. Extremely popular all over Europe and the UK in particular, the Canicross sport has a few intricate details that make it stand out from your usual dog jog.
When most people first hear about Canicross they might think that this is just a fancy name for going on a jog with your pup. However, this is far from what Canicross truly is. Instead, in Canicross you are attached to your pet by a 2 metre bungee line via a belt that goes around your waist on to the padded dog harness. Instead of a normal lead, the belt and the lead are usually made from the same elastic materials that bungee cords are made of to reduce the stress on both you and your dog whilst running.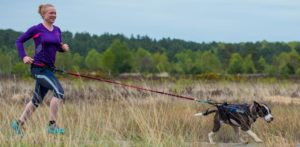 Canicross clubs are popping up all over the UK and offer the option for beginners, intermediate or advanced runners. The main difference between these groups is the distance and terrain of the run. Usually, humans can take care of themselves so organised clubs make your dogs well-being their priority. Just like humans, our pets need training before safely running long distances. So if you and your pooch haven't previously been involved in running together it's always highly recommended to consider how difficult it'll be for your dog, as well as you, to jump head first in to a 10k off-road run!*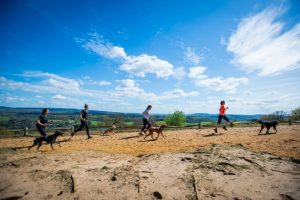 Not only will this keep both you and your dog fit and active, it's well known that spending time walking and running with your dog can help to forge stronger bonds between you. Through Canicross, dog behaviour can also be improved that have been caused by lack of exercise/stimulation as the activity requires more brain power from them by following your directional commands.
source: dogfit.co.uk
If you need any help finding the perfect carer for your pet, make a request below. It's free and it only takes 30 seconds – let's see who we can find for you.