A recent study has revealed that one third of Brits are more scared of flying than 10 years ago and, as rates increase, those affected are searching for more ways to reduce fears. For the 21 million who don't feel at ease when taking flights, a new and rather cute solution is proving to be popular.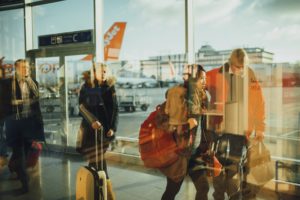 Introducing airport therapy dogs
The UK's first airport therapy dog has proved to be extremely popular. Harley, the Alaskan malamute, has been successfully easing the nerves of passengers in the terminals of one of Scotland's largest and busiest airports. This friendly pooch has been more than happy for anxious travellers to stroke and play with him before their flight departures and is having a significant impact!
Surprisingly, Harley isn't the first airport therapy dog – in fact, there are over 50 airports in the US that have introduced these dogs. After hearing about the positive stories of how dogs have helped passengers travelling with conditions such as dementia, Harley has been brought into Aberdeen airport as an official staff member!
Initially brought in on a trial basis after being inspired by the work of therapy dogs at Halifax airport in North America, staff at Aberdeen airport are keen to have Harley back as a team member throughout July, where Harley will to continue to help de-stress passengers. Airport manager Fraser Bain said:
'The use of therapy dogs has become quite common in North American airports to reduce customer anxiety and improve the passenger experience but we were not aware of any such schemes in UK airports. Harley made his first visit to the airport in March 2018 and he was an instant hit, he is a beautiful dog with such a gentle nature that people warmed to him straight away.We are keen to explore further ways of how Harley can be of benefit to passengers travelling through the airport, whether this is linked to busier periods at the airport or tied in to help passengers with hidden disabilities. We are looking forward to working more with Niel and Harley and receiving lots more cuddles with our gentle giant.'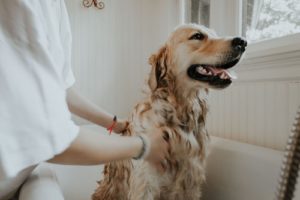 It's no secret that pets have a huge impact on the well-being of humans, from helping development at an early age, to providing every day comfort. We are discovering new ways that animals helps us every day.
We don't know about you, but the idea of airport therapy dogs across UK airports is certainly something we like the sound of. Whether you're a nervous flyer or not, snuggling up with a fluffy friend prior to lift-off is bound to have a positive impact and make flying a little less nerve wracking.