Ben Fogle has teamed up with pet food brand, Harringtons, to develop a series of 'dogventures' – walks up and down the country that will shake up your usual routine and encourage you to try something new!
The project was sparked by research by Harringtons, which found that the average dog owner walks 1008 miles per year. Within this, however, only 40% of owners change their dog walking routine once per month (or less)!
Speaking about why he and his beloved Labrador got involved with the project, Fogle said, "I've teamed up with Harringtons to come up with a series of adventurous walks up and down the country so that both you and your dog can get a little bit more out of your daily routine." 
Ben, along with eight other walkers, has published his favourite dog walking route online. You can find Ben's personal video intro, as well as  all nine routes on the Harringtons website here.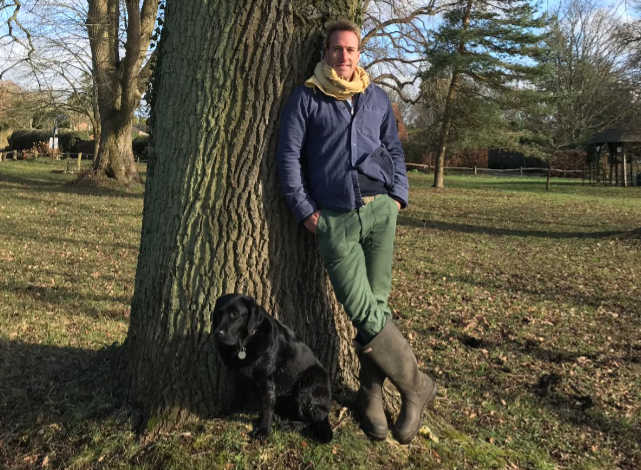 Here are Ben's top dog walking tips:
Give your dog some time off the lead
For me, a dog walk isn't a dog walk if you can't let the dog off the lead. There are some wonderful places where dogs can be lead-free, but Harringtons' research has shown that many dog owners are too nervous to ditch the lead due to the repercussions of getting it wrong. Check the regulations first, but be confident in letting your dog have some time to really let off some steam. There are plenty of places that are geared up for lead-free dogs, so it's worth taking the time to find one close to your home.
Use your dog walk as a time to bond with your dog and even take up a new hobby together
Walking is the single most effective way of creating a very special bond between dog and owner from day one. Not only does it mean they have the exercise that they need, it also allows them to spend quality time with their best friend! It might sound crazy but start to think about other hobbies you can take up with your dog aside from walking. If you both like water, why not try paddle boarding together? There are companies across the country that allow dogs to paddle board and it will be a brand new sensory experience for both of you to share together!
Try something different on your usual dog walking route, or try a new route altogether
If you haven't got time to change your usual dog walking route, shake things up a bit by hiding treats for your dog to find. Dogs are natural born scavengers, so this little game is sure to breathe new life into your walk. When you do have time to have a think about a new route, try something completely different like a beach, a park or a wood. 
Invite a friend with four or two legs!
At the weekend when you have a bit more time, why not take the whole family or some friends on your dog walk with you. Having someone else to play with and interact with along the way will be fun and exciting for them. Inviting other dogs or stopping to speak to other dogs along the way is a great socialisation opportunity too, which is just as important for older dogs as it is for puppies. Puppy training is just the beginning, it's important to keep your dog interacting with others if you want them to be outgoing and friendly, especially rural dogs who may not get as many opportunities to mix with others. Just make sure you ask the owner first if their dog is up for some interaction, just in case! 
Understand your dog and what makes them tick
Different breeds of dogs have different behaviours and characteristics. Really understanding your dog will help you to incorporate something into your dog walk that they will love and help with their general upkeep too. I've had three Labradors so far, currently Britain's favourite dog, and they are known for being energetic, loyal, playful and relatively easy to train. That's why my dogs have been able to accompany me on some of my adventures, my first Labrador, Inca keeping me company as my luxury item on the TV show Castaway, based on the remote island of Transay. I'm not suggesting everyone should get shipwrecked with their dog! But the Labrador's nature made me confident that Inca would get as much out of the trip as I did.
Do some research, find out what your dog really loves and a whole new world of dogventures awaits!
For more on our dog walking services, visit the main site here. Make sure you tweet pictures of your next dogventure (and don't forget to tag us @Tailstercom)!