The Halloween holiday has been growing in the UK year by year, with the trend of dressing your dog for the occasion becoming ever more competitive on social media. Consider the bar raised.
Here at Tailster we roped the office dogs in to help demonstrate some of the cheap and cheerful costume ideas that will transform your pup with very little effort.
Here are our 4 easy DIY Halloween costumes for dogs…
E.T.
This costume couldn't be easier… if you have a pug.
Simply wrap your pug in a towel, and pop them in a crate. If you can find a bike with a basket, then even better! Wheel your pug into the party in style. This one works particularly well with a docile pug such as ours, who is unlikely to budge unless totally necessary…
Ghost
Simply find an old white bed sheet and cut it into a circle. Cover your dog, mark where the eyes are (try to avoid poking your dog's eyes out…) remove from your dog and cut little circular shapes to form the eye holes.
Pop it on your dog and enjoy.
Spider
The spider costume may require a trip to the local craft shop, but once you have pipe cleaners, you're ready to go. We used a pair of old tights to attach the pipe cleaners to, but a piece of elastic or a t-shirt would work just as well.
Twist multiple brown pipe cleaners together so they become thicker and more akin to a spider's leg. Slice the tights and slide onto your dog. Cut tiny holes where you want the legs to be and poke the ends to the pipe cleaners through the hole. Flatten the tips of the cleaners so they hook onto the tights and stay in place. Et voila! One spider dog at your service.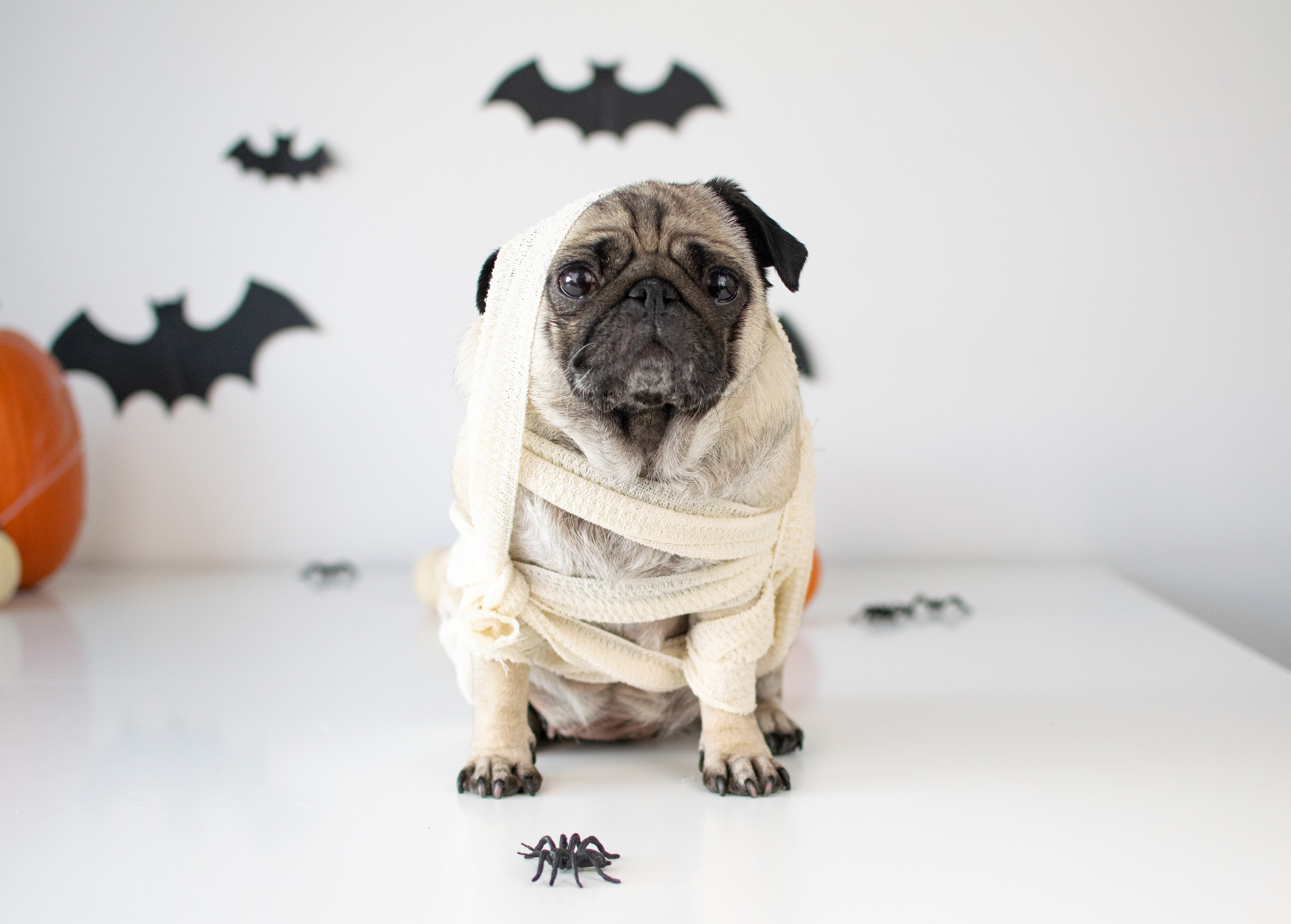 Mummy
Grab some bandages from a first aid kit, or your local pharmacist, grab your dog and wrap, wrap, wrap!
Make sure you have plenty of treats as rewards for your 10/10 good doggo.
Now you've picked your dog's new spooky look, you don't want them to be all dressed up with nowhere to go. Check out the some of the Halloween events around the UK to attend.. make sure to tag @tailstercom in your photos!
If your dog isn't such a big fan of Halloween, make sure sure you have prepared them for disruptive trick or treaters.

Work, family and social commitments mean that there often aren't enough hours in the day to give our pets the attention that they deserve. Click here to find out how Tailster can put you in contact with hundreds of pet carers in your local area, meaning that you can rest in the knowledge that your pets are being well looked after.