In honour of one of the UK's most popular shows, this year we'll be celebrating Bake Off  with simple, delicious, pet-friendly recipes for you and the animals in your life to try. Trust us, they'll LOVE them!
Each week will have a theme, much like the show itself, meaning that you can join in the fun from the comfort of your kitchen and rustle up a feast for your pets to enjoy. And, this week is…
#BISCUITWEEK
Here's our easy, 3-ingredient dog biscuit recipe that's guaranteed to keep your pooches satisfied for hours! Once you've made them, take a picture with your dog, share the results on social media and make sure you tag us @tailstercom – we'll be sharing the best ones!
On your marks, get set… BAKE!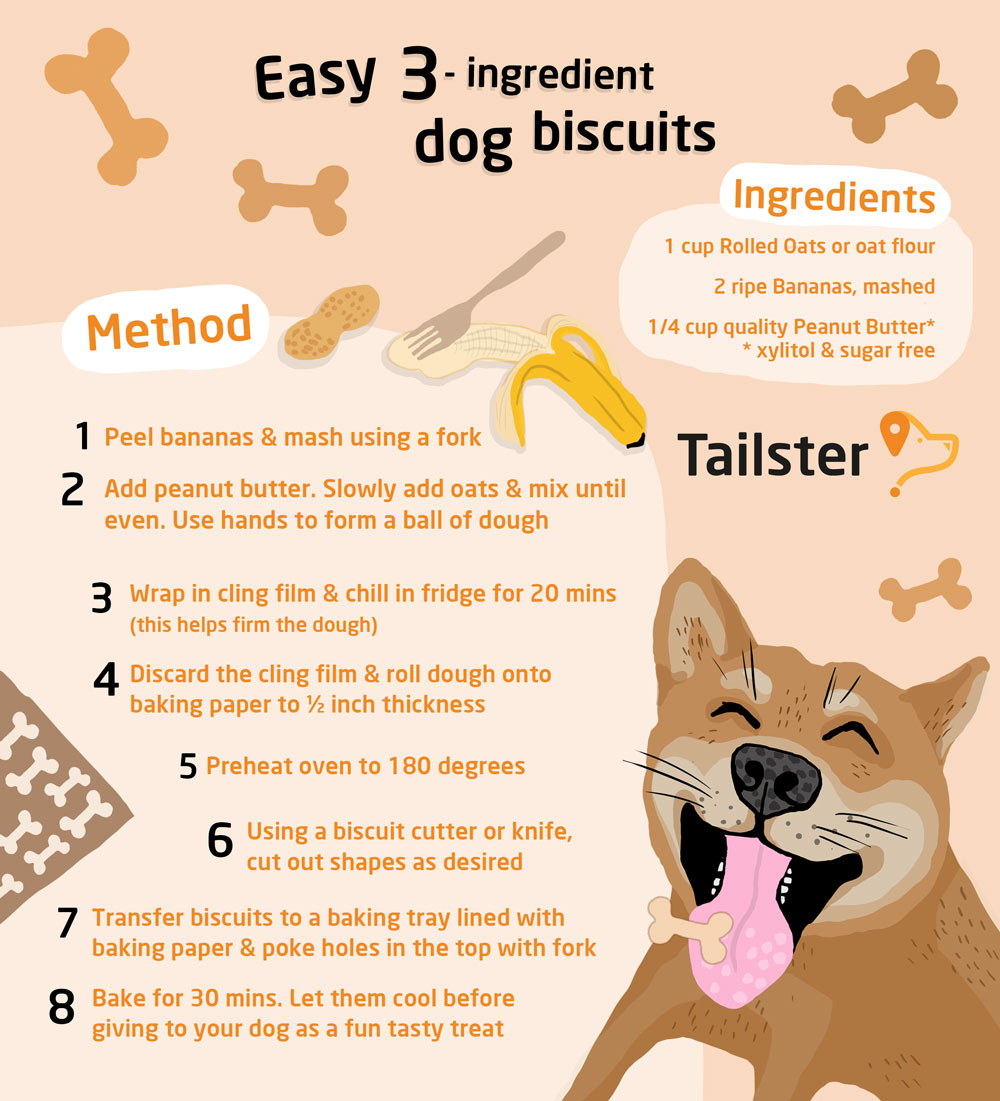 Ingredients:
1 cup Rolled Oats or oat flour
2 ripe Bananas, mashed
1/4 cup quality Peanut Butter*
* xylitol & sugar free
Method:
Preheat oven to 180 degrees
Peel bananas & mash in a bowl using a fork.
Add peanut butter. Slowly add oats & mix until even. Form the mixture into a dough-like ball.
Wrap in cling film & chill in fridge for 20 mins (this will help to firm the dough and hold the mixture together).
Discard the cling film & roll dough out onto baking paper. This should be approx. ½ inch in thickness.
Using a biscuit cutter or knife, cut out shapes as desired. Of course, bones will be a sure-fire winner!
Transfer biscuits onto a baking tray lined with baking paper & poke small holes in the top with fork.
Bake for 30 mins. Let them cool for a while before serving.
ENJOY!
Work full time and looking for regular pet care? Perhaps Tailster can help! We have a range of vetted carers across the UK, available to care for your pet as and when you require. For more information, click here.